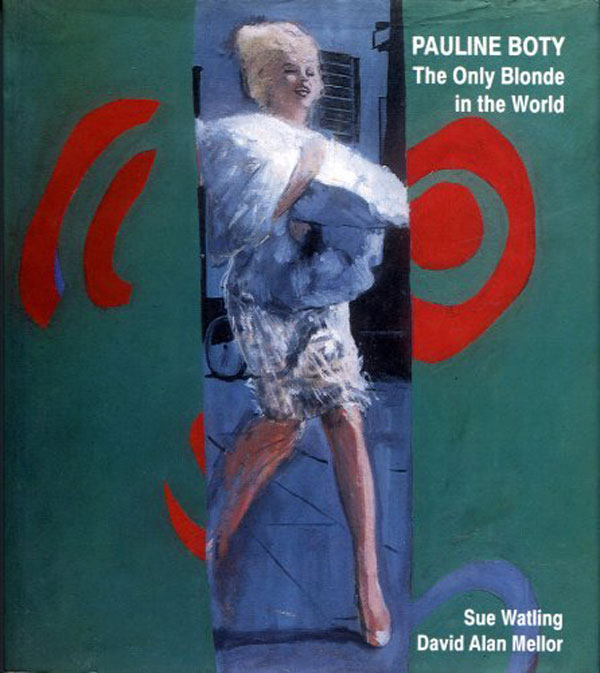 Note that I independently write and research everything in this article. But it may contain affiliate links.
Little is in print about this early pop art icon. So Pauline Boty – The Only Blonde In The World is a book to be treasured purely because there isn't much else.
She was an icon of the early-to-mid 1960s, a noted British pop artist, a dancer on teen TV shows, a poet, an actress on mainstream TV, a star of the BBC's Pop Goes The Easel documentary and a seriously stylish soul of the day.
Yet despite all that and perhaps because of her early death, Pauline Boty is still a fairly unknown quantity. Which is why Pauline Boty: The Only Blonde In The World by Sue Watling and David Alan Mellor is such an important book and one that's well worth seeking out. Until something more substantial comes along at the very least.
Pauline Boty was born in south London in 1938 and after showing promise as an artist, she won a scholarship to Wimbledon Art School, where her looks got her the nickname 'The Wimbledon Bardot'. Working both in stained glass and on canvas, she quickly gained a reputation, featuring in the 1957 Young Contemporaries exhibition alongside Robyn Denny Richard Smith and Bridget Riley and moving to the Royal College of Art, where she mixed with David Hockney, Derek Boshier, Peter Phillips and Peter Blake.
Indeed, if you saw some of Boty's work from the early 60s, you'll probably think it was a Blake piece. Such is the similarity of both style and influence.
Mainstream attention soon followed. In 1961 with the Blake, Boty, Porter Reeve show (one of the first British pop art shows), then with the Ken Russell Pop Goes The Easel BBC show alongside Peter Blake, Derek Boshier and Peter Philips (occasionally repeated on BBC4 and sometimes on YouTube until it gets removed). Not long after she started working as an actress in BBC dramas. Nothing, if not versatile.
But art was still the priority, not least featuring the hip and cool of the day in both collage and as paintings. 5-4-3-2-1 was a tribute to Ready Steady Go for example, while With Love To Jean-Paul Belmondo was another tribute, this time to the iconic face of the French new wave, a subject dear to her heart. Note to self. Write more articles about the French new wave. There was also political art too, particularly with reference to the Cuban revolution.
The pattern continued over the next couple of years, with some radio work and marriage (after a 10-day romance) thrown into the mix before Boty became pregnant in 1965. Sadly, a lump was also discovered and not long after her daughter was born, Boty died, aged just 28, in 1966. That, sadly, is the end of the story.
Unlike many icons of the era, Boty's early death didn't result in a growing reputation over the following decades. On the contrary, despite more attention in the last decade or so, she's still a largely forgotten name from the 1960s.
However, during those last 10 to 15 years, pop art exhibitions have started to feature her work more and this book was actually produced to coincide with a 1998 exhibition of the same name based solely on Pauline Boty.
Sadly, it's a fairly sparse book, a result of so little work being available at the time of the exhibition I suspect. Art has been recovered over the years, but there are still gaps in the collection.
Saying that the book does feature some fine imagery of Boty's best-known pieces, some in full colour and including her now-iconic pieces like the Belmondo, a tribute to Monica Vitti, her last work ('Bum') and both of her 'Man's World' collages. As I said, some of the work has actually been 'lost' and due to her fairly short career, there isn't a great deal of Boty to show either. Good luck finding those early BBC acting roles too, most have been lost in the great archive clearout.
Yet despite that, this 47-page book is still worth seeking out. It features both a breakdown of her life and a critique of her art by the respective authors, lots of images, a chronology of her life, a listing of all exhibitions and a reference guide to known works.
In short, The Only Blonde In The World is the only book worth seeking out on Pauline Boty as it's the only book with a sole focus on Pauline Boty. The downside? Long out of print and despite it being a fairly short book, it does come at a price on the secondhand market.
You'll usually find a copy for sale on eBay. If you see a price of £100 or more I suggest you wait and check back. They do come up cheaper.
Save
Love Modculture? If you enjoy what you read or have benefitted from it and want to
help with the ever-increasing costs of the site and newsletter
, you can always
buy me a coffee at Ko-Fi
. Every penny is helpful and appreciated.