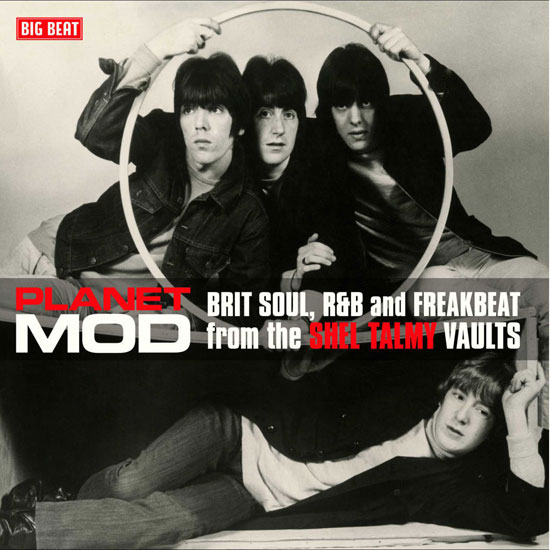 Note that I independently write and research everything in this article. But it may contain affiliate links.
Another potential gem from Ace Records, that being Planet Mod – Brit Soul, R&B And Freakbeat From The Shel Talmy Vaults, which lands in April.
The compilation is from the Big Beat arm of Ace Records on CD and vinyl, featuring the work of the man who oversaw The Who, The Kinks and The Creation from live act to studio, creating a sound that still packs a punch today.
'Planet Mod' pulls in two dozen examples of Talmy's work, all apparently 'drawn from a fresh excavation of his rarely tapped, thoroughly ear-opening tape vault'.
Many of the acts, such as the Thoughts, Wild Uncertainty and Tribe were recorded for his own short-lived Planet label, while the Trackers and Pros & Cons and others were independent productions Talmy offered to major labels.
The finished track listing includes black US acts John Lee Hooker, Ray Gates and Screaming Jay Hawkins, along with 'homegrown' club R&B of the Soul Brothers, Groundhogs and The Untamed. There are also rare early compositions from Bowie (Kenny Miller's 'Take My Tip') and Bill Wyman (the Preachers' 'Goodbye Girl') and 'mysterious outfits' like the Total and the Corduroys.
Details notes of course, overseen by Alec Palao and featuring notes and illustrations drawn from the Talmy files, this is pretty much essential. Well, as long as you already own the earlier Making Time compilation.
Both versions land on 27th April but are available to pre-order now, selling from £13.28. Track listings below.
Find out more at the Amazon website
Track listing:
01 Daddy Longlegs (Alternate version) – The Untamed
02 Unto Us (Demo version) – The New Breed
03 Searching – The Soul Brothers
04 Mai Lee – John Lee Hooker
05 Call Me Girl – The Thoughts
06 Take My Tip (Alternate take) – Kenny Miller
07 I'll Never Fall In Love Again – John Lee's Groundhogs
08 Don't Let It Be – The Tribe
09 Why Do You Stand In My Way – The Pros And Cons
10 Have You Ever Had The Blues (Alternate take) – Ray Gates
11 I'm Leaving – The Untamed
12 Too Much Of A Woman – The Corduroys
13 Goodbye Girl – The Preachers
14 The Skip (Alternate version) – Goldie & The Gingerbreads
15 Pretty Girl – The Thoughts
16 Stone Crazy – Screamin' Jay Hawkins
17 Over You Baby – John Lee's Groundhogs
18 Life's Too Good To Waste – Tony Christie & The Trackers
19 The Gamma Goochie – The Tribe
20 Broken Truth – A Wild Uncertainty
21 Mary Ann – The Pros And Cons
22 Think – The Total
23 I'm Going Out Tonight – The Untamed
24 Goodbye So Long – The Soul Brothers
(the vinyl is the same tracks over two LP discs).
Love Modculture? If you enjoy what you read or have benefitted from it and want to help with the ever-increasing costs of the site, you can always buy me a coffee.