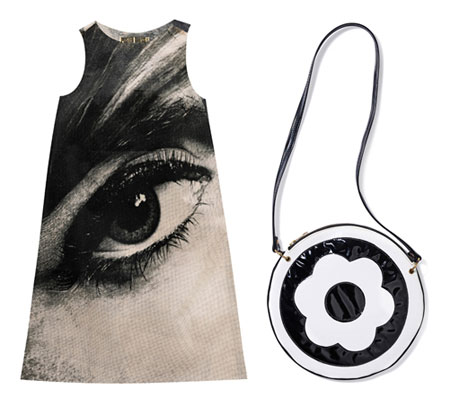 Big thanks to Rob Hill for sending over details of Pop! Culture and Fashion 1955 – 1976 at the Fashion and Textile Museum.
But don't rush over there, it doesn't start until 6th July 2012 and then rolls on until 27th October 2012. According to the blurb, Pop! will explore the impact of music, art and personality on the development of the fashion of the times. From the poodle skirts and embellished leathers of the rockers through to the Punk era, this exhibition will take in the 'cool stylings' of the Mods, the high baroque of Psychedelia and the kitsch glamour of 70s retro by designers such as Mr Freedom and Miss Mouse.
Mentioned in the publicity are 'the pop-art fashions of Mary Quant' as well as Quant's early modernist pieces from the original Bazaar. Furniture, original posters and graphics and promotional materials will help to set the scene while an 'I'm Backing Britain' display will create a dramatic centrepiece.
You'll find the The Fashion and Textile Museum at 83 Bermondsey Street, London, SE1 3XF, with the place open Tuesday to Saturday, 11am – 6pm (closed Sunday and Monday). Tickets are £7 / £5 for eligible concessions – but as we said, make sure you don't go before July.
Fashion and Textile Museum website