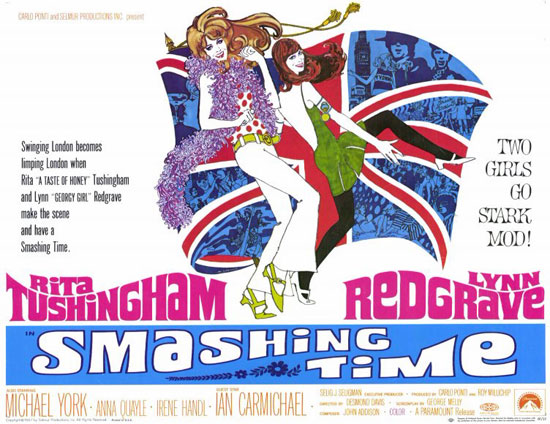 Plenty of mod must-sees coming to the big screen next week, as the Barbican in London hosts Pop – Images of Desire, a selection of classic pop art flicks.
Not all mod-friendly titles, but a good number are, movies like Smashing Time, Blow-Up, Tonite Let's All Make Love in London, Performance, Pop Goes The Easel and Modesty Blaise. They are also films that are rarely seen on the big screen too. So if you are a fan and in the area, you really need to get down.
Want the full listing? All are below – bookings for all are now being taken too at the Barbican website, which also has a breakdown of all the films, in case you haven't caught them in the past.
Italy: The New Domestic Landscape, MoMA, 1972 (12*)
+ ScreenTalk with Gaetano Pesce and Peter Lang
28 Nov 13 / 19:00 / Cinema 1
Tonite Let's All Make Love in London + shorts (15*)
6.30pm
29 Nov 13 / 18:30 / Cinema 3
Blow Up (15)
8.30pm
29 Nov 13 / 20:30 / Cinema 3
Information on Blow Up (15) info  book tickets to Blow Up (15) book
Smashing Time (PG)
2pm
30 Nov 13 / 14:30 / Cinema 3
Performance (18)
6.30pm
30 Nov 13 / 18:30 / Cinema 3
Pop Goes the Easel + British Sounds (15*)
8.45pm
30 Nov 13 / 20:45 / Cinema 3
Forbidden Planet (U)
2pm
1 Dec 13 / 14:00 / Cinema 3
Alphaville (12A)
4pm
1 Dec 13 / 16:00 / Cinema 3
Quatermass and the Pit (15)
6pm
1 Dec 13 / 18:00 / Cinema 3
2001: A Space Odyssey (U)
8pm
1 Dec 13 / 20:00 / Cinema 1
Herostratus (15)
8.30pm
2 Dec 13 / 20:30 / Cinema 3
Modesty Blaise (PG)
6.15pm
3 Dec 13 / 18:30 / Cinema 3
Two-Lane Blacktop (15)
8.45pm
3 Dec 13 / 20:45 / Cinema 3
The Circle (O Cerco) (15)
6.30pm
4 Dec 13 / 18:30 / Cinema 3
Le Mépris (15)
8.40pm
4 Dec 13 / 20:40 / Cinema 3