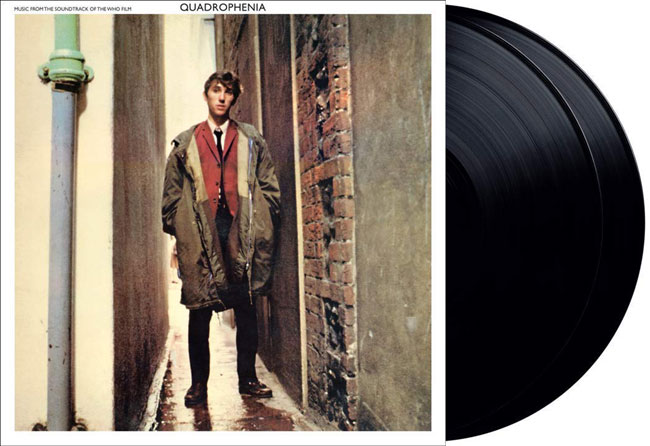 Not the first time it has returned to the shelves, but the Quadrophenia movie soundtrack heavyweight vinyl reissue is a new edition.
The last time it came out was as a Record Store Day release, with copies floating around a little after (at a premium) should you have mixed out on queuing in the wind and rain outside your favourite independent record shop in the early hours of the morning. Which seems to be the only way of guaranteeing anything from that particular vinyl fest.
The new version is, as the title suggests, a heavyweight vinyl edition over two discs and as you would expect of the soundtrack version of Quadrophenia, mixes The Who classics with songs you might know, recall and possibly love from the movie itself.
That's pretty much it really. If you are a big Who fan there's every chance you already have this. Even if you're not, you might have it as it was a common album when the movie came out and plenty of copies have been around since.
But if you have worn out your original or just haven't got round to buy it on vinyl, then the Quadrophenia movie soundtrack heavyweight vinyl is well worth picking up.
The only detail that's unclear is the release date. Amazon has this down as coming out on 31st January 2020. Basically, this week. But I have seen it being listed as coming in March elsewhere. Hopefully, that Amazon date is right. Whenever it lands, the price is £25.83.
Find out more about the vinyl at the Amazon website
Tracklisting:
Note all songs by The Who unless stated.
Side A
1. I Am The Sea
2. The Real Me
3. I'm One
4. Love Reign O'er Me
Side B
1. Bell Boy
2. I've Had Enough
3. Helpless Dancer
4. Doctor Jimmy
Side C
1. Zoot Suit (The High Numbers)
2. Hi-Heel Sneakers (Cross Section)
3. Get Out And Stay Out
4. Four Faces
5. Joker James
6. The Punk and The Godfather
Side D
1. Night Train (James Brown)
2. Louie Louie (The Kingsmen)
3. Green Onions (Booker T & The MGs)
4. Rhythm of the Rain (The Cascades)
5. He's So Fine (The Chiffons)
6. Be My Baby (The Ronettes)
7. Da Doo Ron Ron (The Crystals)