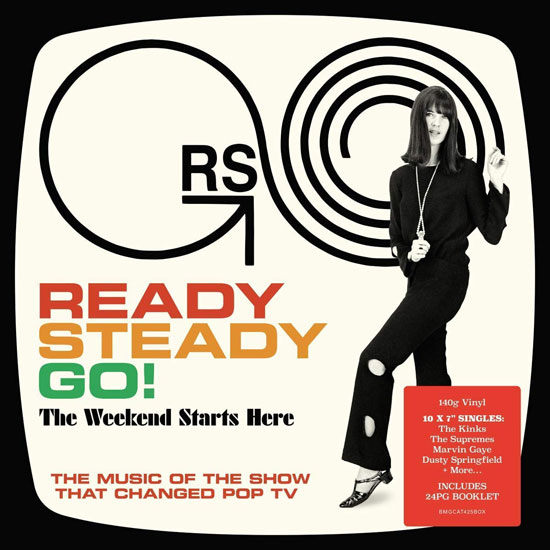 It's an interesting idea, but I think the Ready Steady Go 7-inch vinyl box set might be a chance missed.
Like a lot of these things, the Ready Steady Go box set is a nice thing to own. A box set of 7-inch singles and a 24-page booklet about the show itself. As a concept, this is a lovely thing.
But the music chosen for the Ready Steady Go box is more mainstream than I would have hoped for. I presume it is mainstream to make the box a more mainstream purchase. At the end of the day, BMG wants to sell this in quantity. Although producing it as a vinyl box will always make it a niche product regardless.
But when you see the tracklisting, you might not see anything here that makes you want to buy it on the basis of the music. This is a very obvious selection of music with very little rarity value.
I've listed what is on the box over the 10 singles below. Make your own mind up from that. If you like the idea of the box, it is available to pre-order now ahead of the 28th February release date for £53.99.
Find out more at the Amazon website
Tracks:
Disc: 1
5-4-3-2-1 – Manfred Mann
Do Wah Diddy Diddy – Manfred Mann
Disc: 2
Land of 1000 Dances – Wilson Pickett
In the Midnight Hour – Wilson Pickett
Disc: 3
I Only Want To Be With You – Dusty Springfield
Heartbeat – Dusty Springfield
Disc: 4
How Sweet It Is (To Be Loved By You) – Marvin Gaye
Can I Get a Witness – Marvin Gaye
Disc: 5
Baby Love – The Supremes
Stop! In the Name of Love – The Supremes
Disc: 6
The Sun Ain't Gonna Shine (Anymore) – The Walker Brothers
Everything's Gonna Be Alright – The Walker Brothers
Disc: 7
You Really Got Me (2014 Remastered Version) – The Kinks
Tired of Waiting for You (2014 Remastered Version) – The Kinks
Disc: 8
Catch the Wind – Donovan
Universal Soldier – Donovan
Disc: 9
Anyone Who Had a Heart – Cilla Black
You're My World – Cilla Black
Disc: 10
Sugar and Spice (Stereo Version) – The Searchers
What Have They Done to the Rain – The Searchers