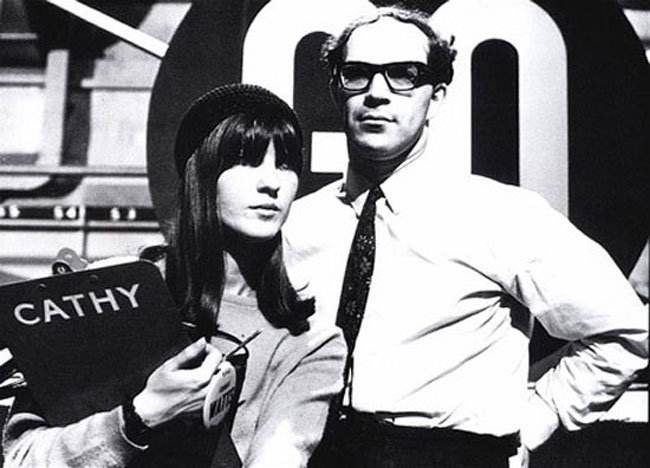 Note that I independently write and research everything in this article. But it may contain affiliate links.
Ready Steady Go has gone down in 60s folklore as classic youth TV. But what was it really like? And how was it viewed by those taking part? Johnnie Taylor was there…
When Ready Steady Go first started it was a regular pop music show with old-style groups like Billy Fury, The Tremeloes etc. Then one day my mate Tony told me he had met this really flash girl at the 'Scene' last week and that she had given him a few passes for the next show.
Typical Tony, of course, he didn't remember much more about it as he was blocked at the time he met her, but apparently the format was changing to play the type of music we liked and feature the bands and people on the 'Mod scene'.
I got talking to a few people in the week and it turned out they had passes too. So I got decked out in my tab collar, knitted tie, Ravels and mohair suit and met Tony to go to the studio at Kingsway, not knowing what to expect.
When we got into the studio there were several hundred Mods there, a lot I recognised from the clubs and there were no seats like a regular show, just a large room where everyone stood and danced.
They started the show with '5-4-3-2-1' by Manfred Mann and played some pretty good music, the type we liked. It sounded as if they had got one of Guy's playlists! There were several live acts (miming their records) and news about fashion, clothes shops, interviews with singers & groups, and the hosts. They even interviewed some of the Mods who were there, asking about clothes and favourite bands.
We managed to get some passes for the next week and told our friends to watch the show and look out for us. We made sure we got in front of the cameras a lot this time. Tony had slugged down 10 pills before he went, trying to make history by being the first person to appear on television blocked!
There were some really flash looking people in the audience and more time was spent checking out the clothes people wore and how they danced, rather than paying attention to the music. We had a real laugh that night with our mates who had seen us on the show – Tony the centre of attention as always.
The show became a phenomenon almost overnight with all Mods talking about it, a must-see on a Friday night. 'The Weekend Starts Here' was its slogan and for a while, it was a great way to start the weekend with all our favourites appearing on it. The Animals, The Blue Flames, The Who (doing 'I Can't Explain' – everyone went wild), as well as legendary soul and R&B acts like Marvin Gaye, Solomon Burke, Bo Diddley & others who were touring the UK at the time.
Everyone used to watch the programme to see what people were wearing and the hairstyles they had. Soon the Kingsway studio became too small for the show and it moved to Wembley studios where they could have a larger audience dancing (more like a club atmosphere). Often it would be recorded during the week and then aired on the Friday.
We went to it once again at the new location and it was a great night out with all those people there. Badges with the show's logo were given out and people used to wear them on their clothes at the weekend at the clubs, showing that they had been part of it, real elitist that was. With prerecording, the program became more professional looking and some of the bands actually sang their songs instead of miming.
About this time the presenters on the show became more prominent and had more camera time than before. They were Cathy McGowan and Keith Fordyce, who both thought they were the coolest Mods out there…especially Cathy. Don't know if she was the first person to say it, but she certainly made a point of calling everything 'super' and 'smashing', like a stupid Austin Powers doll. She thought she was a 'trendsetter' in what she wore when really she had on last month's fashions or horrible designer stuff she hoped others would copy.
She also had her favourite artists and friends there when she could, like Sandie Shaw, who had several hits including a cover of 'Walk On By'. I remember seeing Dionne Warwick there once, singing the original, far superior – the audience recognised this as such, cheering and applauding loud and long, much to Cathy's displeasure!
Still, the programme continued to gain popularity, still playing good music, with good bands appearing. We saw more and more of the badges on peoples' clothes…, especially on scooter boys' parkas.
A few weeks later Roger and I were watching one Friday when he turns to me and says 'I can't stand this silly cow anymore'. That was it for me too. We never wore the badges again. In fact we stopped admitting that we had ever been on the show (as did most of the people who had been there near the beginning).
I remember Cathy and Keith gracing the 'Scene' with their presence one night and a bunch of Mods started shouting 'f*** off Cathy' and 'go back to the Speakeasy or Samanthas' (or one of those other fancy little clubs for the Chelsea set). The same happened when she went to the 'Flamingo'.
The show became more and more a parody of itself, the older Mods didn't want to be seen on it again.
Someone else wrote this about the show in late 64:
'As the camera focuses on the parts in question, Keith Fordyce, a RSG host announces that the current fashion is still for hair worn long and over the collar, jackets without lapels, tight trousers and 'Cuban heeled' boots.
Then the Beatles start their song 'I Feel Fine' while all around a crowd of young Mods dance, oblivious to the supergroup in their midst. The Mods wear Levis, desert boots, cycling shirts and have their hair in the French 'crew-cut' style, scornfully indifferent to Keith and his ideas of what they should be wearing.'
'We were not going to let the establishment people tell us how we were going to dress thank you very much, we would make our own fashion statements.'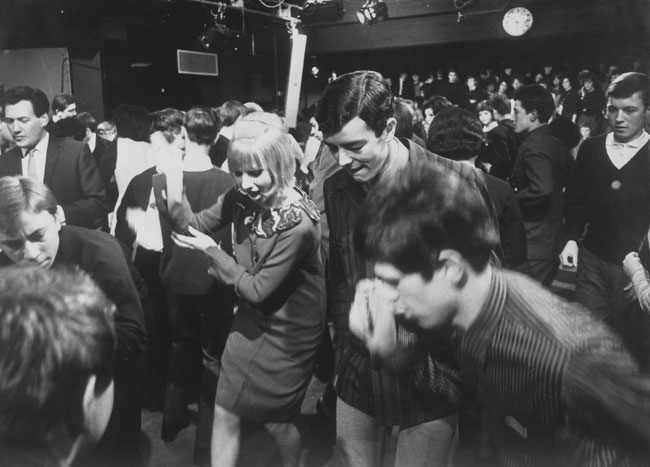 The audience became more rowdy as time went on. Once a bunch of lads held up a 'Hello Mum' sign. Some of the doormen tried to grab it and quite a scuffle started which the cameras quickly moved away from.
The very end of it for me was after some expose of Mods in one of the tabloids, highlighting fights with rockers, pill taking at clubs, teen sex and so forth. Cathy got up the next week and said that 'real Mods' didn't do that sort of thing and just wanted to dress smartly, dance to music and have a good time.
'Isn't that right boys and girls…we don't do that sort of thing do we?'
'Yes we do!' shouted back a whole bunch of scooter boys.
She was a livid. I thought it was great. Well done lads, you just got my respect.
There were a couple of spin-offs from the show and a magazine published. Finally, it went off the air in late 1966 but had long lost any significance for us by then. They still featured some great acts but there were no remotes or mute buttons in those days and you had to suffer the drivel to get the good bits.
Ready Steady Go was a great show, and a great idea and was the one thing that all of us loved and watched religiously on a Friday evening.
It didn't take long for something that was THE 'in thing' to be a part of, to become a show we wanted nothing to do with. Too bad the establishment tried to make it how they thought it should to be instead of how we wanted it to be.
Footnote: Sadly Ready Steady Go has never been given a release on DVD or Blu-ray, although some old VHS versions of the show and clips on YouTube still exist. We can only sit and hope that one day someone will give the existing footage the reissue it deserves.
There was a recent Ready Steady Go vinyl box set made available, but to me, it seemed like something of a chance missed. But at least something is being reissued, which gives us hope for a Blu-ray at some point.
Love Modculture? If you enjoy what you read or have benefitted from it and want to
help with the ever-increasing costs of the site and newsletter
, you can always
buy me a coffee at Ko-Fi
. Every penny is helpful and appreciated.