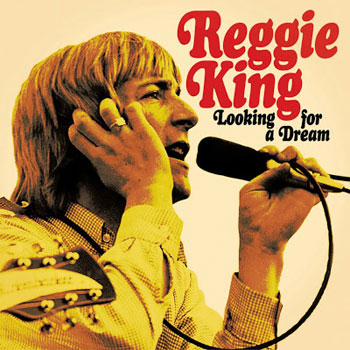 Note that I independently write and research everything in this article. But it may contain affiliate links.
Mark Raison of Monkey Picks fame checks out an advance copy of new material from the Reggie King, the former Action frontman. It goes by the name of Looking For A Dream and is released by Circle Records.
This is truly the stuff of dreams. An album of unreleased Reggie King tracks, the majority backed by his old band mates from The Action. These aren't scrappy demos of familiar songs but twelve songs never heard before with an additional three on the CD previously only available on the limited edition 10 inch EP Missing In Action.
Full recording details aren't available but these were made after Reggie officially left the band in 1968 until the end of 1969. During this period The Action kept the name (only changing it to Mighty Baby in time for their A Jug of Love LP) and the box to the master tape containing eight of the songs which form the heart of this collection is clearly marked 'Reggie King and The Action, Screen Gems demos, March 1969'.
To call these songs demos is to do them a disservice; they are full blown recordings and to my ears finished and of releasable quality. I don't know how they could've been improved. I'm going to assume readers are fully aware of The Action and their 'unreleased' 1968 album Rolled Gold. That record subsequently added much to the band's legacy, demonstrating their ability as a song writing unit no longer content or reliant on interpreting the music of others.
I know many listeners prefer their second phase and for those in particular Looking For A Dream is essential. Albums of demos are often of such sub-standard quality it does little to enhance the reputation of the artist and is merely an item for fans to buy out of curiosity and loyalty rather than something that warrants repeated plays; none of that applies here. It is among the very best work Reggie King ever made and raises his stock even higher.
Plenty of the tracks feel like a natural progression from Rolled Gold (some, not even a progression, they could sit there without revealing the join). Songs like 'Let Me See Some Love In Your Eyes' with its harmonies, bongos, Roger Powell's beating rhythm and Ian Whiteman's flute is pure Action, as is the fantastic 'Picking Up Nancy's Grin' and others. Although all band members contributed ideas to Rolled Gold they concede it was mainly Reggie's songs.
Whiteman at the In The Lap of the Mods book launch said to me the band after that point needed to break from Reg (and vice-versa) as their interest in playing drawn-out and experimental pieces was not compatible with his more traditional and firmly structured song writing. That is very apparent here as Reggie was writing from the position of a singer of songs. They are tightly constructed pieces that skip along and could just as easily be played on an acoustic guitar or piano in the way Reggie wrote them. If you ask me to choose between Reggie King's ideals and his instrumentalist colleagues' jams extending beyond half an hour there's only one winner.
Reggie thought the band couldn't get a deal for Rolled Gold as record bosses couldn't hear a hit single. I'm not convinced all record buyers in the late 60s only wanted material that sounded like singles but perhaps that fate fell on these recordings too. It's a mystery to me why they've languished in total obscurity especially when Looking For A Dream is far superior in every respect to his Reg King LP which trickled out with no fanfare in 1971. I was lucky enough to write the liner notes to the Circle Records reissue of Reg King and although I genuinely like it I acknowledge that's more on account of its creator than his creation. It doesn't do Reggie many favours as a vocalist or, to a lesser degree, a songwriter. Looking For A Dream brightly highlights both attributes. Listen to his tender, soulful voice on the beautiful 'Suddenly or 'In and Out'. This should've been the real Reggie King album.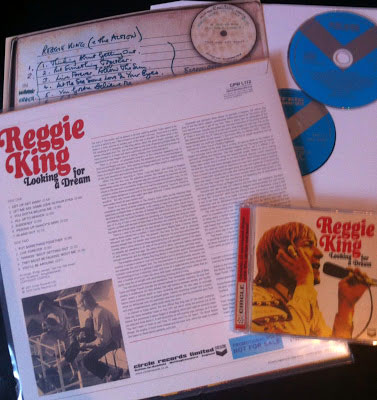 Most of the audio quality is faultless but allowances need to be made for one acetate and three tracks which came from a different source (thoughtfully placed at either end of the compilation so as not disturb the flow). One of these is in such stark contrast to the upbeat cheerful nature of the others it needs a special mention. People who knew Reggie are all very protective of him. When talking to them they almost all readily admit – with a smile – he could be a real pain in the arse at times but offer little more when it comes to him 'losing the plot'.
Reggie introduces 'They Must Be Talking 'Bout Me' by telling those gathered in the studio 'This is a song about a mental home' which elicits a giggle by a couple of people. As he pads then pounds a piano he recounts doctors whispering when he's near, drinking tea from a broken cup, eating bread with a spoon, frowning doctor's telling him to lie down and not worry, and having to take 400 micrograms at breakfast time. The next time The Most Harrowing Songs Ever list is drawn up, check for this; extremely uncomfortable yet darkly spellbinding. It would be wrong to take the content as entirely autobiographical yet Reggie is utterly convincing and no one is laughing when he finishes the song.
As Kevin Pearce writes in his accompanying notes, 'It's always dangerous to succumb to the temptation of playing 'could've, should've, would've' when talking about Reggie, so I won't but it is nothing short of criminal these amazing recordings remained unheard during Reggie's lifetime. That said, I've nothing but huge admiration (and gratitude) for Peter Wild at Circle for his persistence and patience in finally getting this out.
What started as a straight forward project around the time of the Reg King release in 2005 turned into drawn out affair getting the tracks cleared by all relevant parties and then cleaning up some of the tracks. As always with Circle releases the packaging and meticulous attention to detail is apparent. The vinyl edition is beautifully done (although if you don't have Missing In Action then I recommend the CD to get the extra tracks). I've had to secretly sit on these and not even play them to anyone since Peter shared them with me eight years ago when working on Reg King. Listening to them again constantly over the last three weeks I love them more than ever. They serve as a final and worthy tribute to an astonishing talent. I'm loathe to award anything full marks but Reggie King will always score highly in my book and for a collection as wonderful as this I couldn't justify not giving it 10 out of 10.
Tracks: Get Up Get Away, Let Me See Some Love In Your Eyes, You Gotta Believe Me, All Up To Heaven, So Full Of Love*, Merry Go Round*, Suddenly, Picking Up Nancy's Grin, In and Out, Put Something Together, Live Forever, Magenta*, Thinkin' 'Bout Getting Out, They Must Be Talking 'Bout Me, You'll Be Around    *CD only.
Mark Raison (with thanks to the Monkey Picks site).
Looking For A Dream by Reggie King is released by Circle Records on 18th February 2013. Check the Circle Records site for details of how to get one.
Oddly, the album is already being offered as downloads at the Amazon site. If you fancy that, check here for details.
Love Modculture? If you enjoy what you read or have benefitted from it and want to
help with the ever-increasing costs of the site and newsletter
, you can always
buy me a coffee at Ko-Fi
. Every penny is helpful and appreciated.