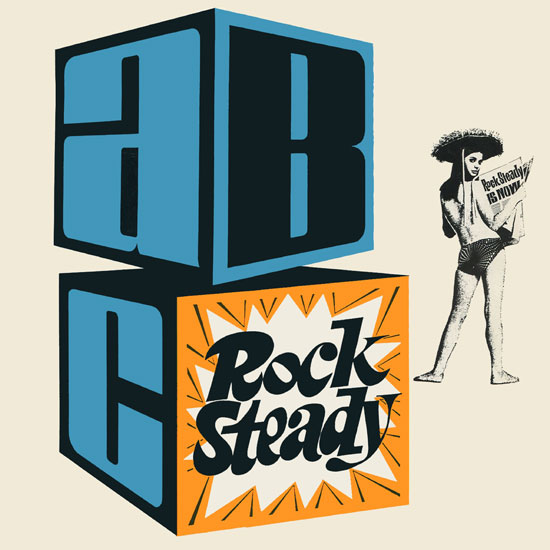 Some rare rocksteady back on the shelves in the form of Roland Alphonso and the Originals Orchestra – ABC Rock Steady.
Released by Trojan Records in its early days of 1968, 'ABC Rock Steady' is now one of the most sought-after long players from the rocksteady era.
Produced by Sonia Pottinger, the set mainly focus on instrumental versions of some of her most popular releases, performed by the Originals Orchestra. That band that included some of Jamaica's finest session players, such as legendary saxman Roland Alphonso, guitarist Lyn Taitt and keyboard players Leslie Butler and Aubrey Adams.
This version is a deluxe CD reissue featuring the album plus 43 (yes, you read that right) bonus tracks that include the original vocal versions of recordings on the LP plus the best of Pottinger's output from the 12 months prior to its release. A dozen recordings are actually new to CD.
You can see those tracks below and you can pre-order the album now ahead of the 5th April release date, selling for £14.01.
Find out more at the Amazon website
Track listing:
DISC ONE: ABC ROCK STEADY
1. ABC ROCK STEADY – Roland Alphonso & The Originals Orchestra
2. THAT'S LIFE – Roland Alphonso & The Originals Orchestra
3. SAY YOU – The Webber Sisters & The Originals Orchestra
4. SAD SONG – The Originals Orchestra
5. EASY ROCK – Roland Alphonso & The Originals Orchestra
6. HIP HUG-HER – Lyn Taitt & The Originals Orchestra
7. STARLIGHT – Leslie Butler & The Originals Orchestra
8. WILD AND FREE – Roland Alphonso & The Originals Orchestra
9. LITTLE NUT TREE – The Webber Sisters & The Originals Orchestra
10. TOP LINE – Leslie Butler & The Originals Orchestra
11. NARATA – Roland Alphonso & The Originals Orchestra
12. PURE SOUL – Lennie Hibbert, Lyn Taitt & Count Ossie
BONUS TRACKS
13. ABC ROCK STEADY – The Gaylads
14. THAT'S LIFE – Delano Stewart
15. SAY YOU – Ken Boothe
16. (IT'S) SO HARD WITHOUT YOU – Patsy Todd
17. SWING AND DINE – The Melodians
18. TELL ME BABY – Delano Stewart
19. LITTLE NUT TREE – The Melodians
20. I NEED YOUR LOVING – The Gaylads
21. GREAT '68 – Marva Moore & The Gaysters
22. CHECK UP – Al & Vibrators
23. TOP CAT – Leslie Butler with Lyn Taitt & The Jets
24. WAKE UP TO REALITY – Glen & Dave
25. FIRE IN YOUR WIRE – Patsy
26. REVIVAL – Leslie Butler with Lyn Taitt & The Jets
27. OVER THE RAINBOW'S END – The Gaylads
28. DEVIL WOMAN – Al & Vibrators
DISC TWO
1. IT'S HARD TO CONFESS – The Gaylads
2. ETHIOPIAN KINGDOM – Roland Downer & Count Ossie
3. I COULD BE A KING – The Melodians
4. I'VE DONE YOU WRONG – The Conquerors
5. I'LL COME BACK – Al & The Vibrators
6. JU JU WAH – Roland Downer & Count Ossie
7. YOU ARE MY ONLY LOVE – The Melodians
8. LET'S GET TOGETHER – Johnny & The Attractions
9. LITTLE FLEA – Patsy
10. GIVE ME BREAD – The Tennors
11. CROSS MY HEART – Johnny & The Attractions
12. WE WILL LIVE AND LOVE – Carlton Manning
13. GEE WHIZ – The Tennors
14. MISS CUSHIE – Junior Soul
15. YOUNG WINGS CAN FLY – Johnny & The Attractions
16. ADULTS ONLY – Dermott Lynch
17. DR PAUL (aka SMOKEY PLACES) – Lyn Taitt & The Jets
18. I'M MOVING ON – Johnny & The Attractions
19. COOL IT – Dermott Lynch with Lyn Taitt & The Jets
20. COME LET US DANCE – The Conquerors
21. ANYTHING YOU WANT – Dudley Williamson with Johnny & The Attractions
22. THE RETREAT SONG – Patsy
23. I'M YOURS FOREVER – The Soul Lads
24. COMING ON THE SCENE – Johnny & The Attractions
25. LONESOME LOVER – Al & The Vibrators
26. SOUL DRUMS – Count Ossie & Leslie Butler
27. CALL OF THE DRUMS – Johnny & The Attractions