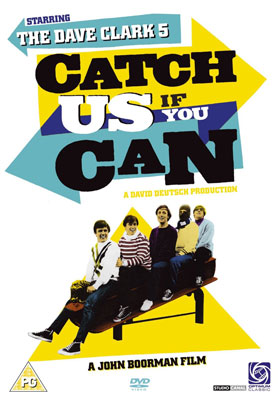 If you were anyone in the 1960s, the hit single and album was followed by the cash-in movie. These were quick cash-ins, not intended for longevity or as a cinematic masterpiece. But 40 years on and most of them around, with Catch Us If You Can (known in the US as Having A Wild Weekend) the most recent to get a reissue.
I used to own this Dave Clark Five vehicle on VHS – and in truth, it's certainly not the worst of the bunch. Directed by John Boorman (yes, the man behind Deliverance and the wonderfully insane Zardoz), it's the story of the pressures of show business – in this case, the face of Britain's Meat Marketing Board, played by Barbara Ferris.
She runs off with Steve, a stuntman played by Dave Clark, heading towards an island she's thinking of buying, pursued by press, agents and managers  – while the advertising executives use the publicity to sell more meat.
From that, you probably get an idea of the depth of the movie. But it's still decent entertainment – and very much of the era. You can now pick it up on DVD in the UK too.
Find out more about the DVD at the Amazon website