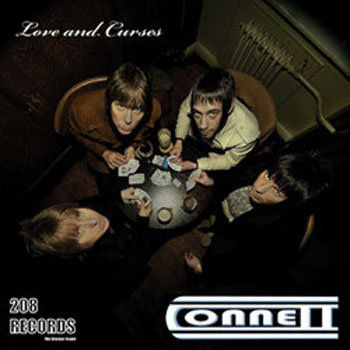 Note that I independently write and research everything in this article. But it may contain affiliate links.
I'll be honest, I've never actually heard much by Connett, with the exception of the occasional snippet on a video. That's until I sat down to listen to the new album, which goes by the name of Love and Curses and is just out on the 208 Records label.
I've listened to it a few times now and for me, it's something of a mixed bag – parts of it really don't tick my personal boxes at all, while other tunes are actually pretty good. Indeed, at times, I feel like I'm listening to two different bands.
It didn't start off well, with album opener Bang! Bang! bringing to mind Jet (remember them?) and Rather Get Down sounding not unlike Oasis' Rock 'n' Roll Star. Indeed on both tracks (and other more uptempo tunes on the album), singer Darron J Connett seems to adopt some kind of mid-Atlantic vocal mannerism. Again, not for me and likely to be an acquired taste. But stick with it, there are some good tunes on this album.
Mademoiselle (recorded at Weller's studio) hints at better things to come, the more laid back Be Right There throws in a late-60s vibe to great effect (not unlike one of Weller's earlier solo grooves, right down to the vocal), He Said is an acoustic gem that's cut from a similar cloth and I'm sure I can hear a hint of Norwegian Wood in By The Sea.
Both Salt and Wine and Take Me Away also benefit from toning things down a bit, nice slice o' Hammond on Real Life Adventures In Wonderland, but God Given Ghost Town and It's War I could happily live without hearing again in a hurry. Not sure about New Horizon either, that mid-Atlantic vocal back in effect!
So you seem my dilemma. At times, there's some really decent material on here. At other times, at least to my ears, there are tunes I could happily sidestep for good. Probably a case of 'try before you buy' and luckily, that's what you can do via the 208 Records site. If you're a fan of Weller's solo stuff and Oasis-esque indie, there's likely to be something on here that appeals. If not, it might be a hard sell.
Find out more at the 208 website
Love Modculture? If you enjoy what you read or have benefitted from it and want to help with the ever-increasing costs of the site, you can always buy me a coffee.