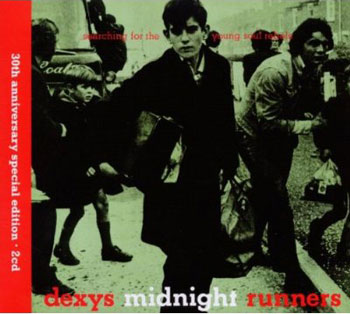 Note that I independently write and research everything in this article. But it may contain affiliate links.
Even back in 1980, Searching for the Young Soul Rebels was a fish out of water. 30 years on, the debut album by Dexy's Midnight Runners still is, but an even bigger fish thanks to this 30th anniversary remastered and expanded edition.
Dressed for a night 'on the rob' rather than a night on the town and armed with a big horn section and some fierce slices of Hammond, Dexy's Mk I was the sound of basement soul, British kids inspired by and paying tribute to the sound of old school R&B, particularly Atlantic and Stax, as well as the acts that re-interpreted those sounds for British clubs. People like Geno Washington, immortalised in the band's first big hit, Geno.
But Searching for the Young Soul Rebels is no tribute album. Amongst the 11 tracks on the original album, only one is a cover – Chuck Wood's Seven Days Too Long. The rest are all originals, all still standing up to scrutiny 30 years on.
Big, bold and brassy tunes like Burn It Down (with that classic 'radio dial' intro), Tell Me When My Light Turns Green, the wonderfully-titled Thankfully Not Living In Yorkshire It Doesn't Apply and the simply wonderful There There My Dear, the downright moody numbers of The Teams That Meet In Caffs and Love Part One, low-key epics in the form of I'm Just Looking and I Couldn't Help It If I Tried and an almost-ballad with Keep It. Oh, yes – and how can we forget Geno. Yes, you might have heard it a million times, but when the brass kicks in, it still has the ability to makes the hairs on the back of your neck stand up straight.
Fronting almost all of those tracks is Kevin Rowland, songwriter, frontman, maverick genius and at times, PR disaster. He's no Otis Redding or Wilson Pickett, that's for sure. But he's a man of passion – and he means every word. His voice might not be to everyone's taste, but personally…I'd listen to him singing the phone book.
Of course, that's not it with this release. EMI has thrown in a pile of extras, demos, sessions and b-sides from the era. It's a fan's dream, although the casual listener might not be so excited. The thing is, with the 'Young Soul Rebels' sound being so basic, outtakes and different versions don't sound a whole lot different to the originals. More Hammond here, a change of vocal emphasis there – it's interesting, but not really re-inventing any wheels.
But there are some real gems here amongst those 21 extras. Covers of Soul Finger, Hold On! I'm Comin', Breaking Down The Walls Of Heartache and Respect for a start, a cracking demo of The Horse played at breakneck speed and reworking of Geno for the Kid Jensen show, to name just a few.
Within months of all of this material being recorded, the band had already started to fall apart and Rowland has started an ongoing feud with the music press. Two years later, it was all fiddles and dungarees with Too-Rye-Ay and that wedding reception classic, Come On Eileen. Three years later, the band had embraced the Ivy League look and committed commercial suicide with arguably its best release, Don't Stand Me Down. After that, it was all over, give or take the odd reunion.
These days, you'll find Kevin Rowland doing the occasional guest DJ spot, hanging out on Ivy League clothing forums and possibly hanging around outside vintage soul clubs – he was spotted doing just that a few years back at Manchester's Hideaway Club. Still the soul rebel, just not so young. But he has at least left us Searching for the Young Soul Rebels, an album that should be in everyone's collection. At under £9 for 32 tracks, you've really no excuse for it not being there.
Find out more at the Amazon website
Love Modculture? If you enjoy what you read or have benefitted from it and want to help with the ever-increasing costs of the site, you can always buy me a coffee.