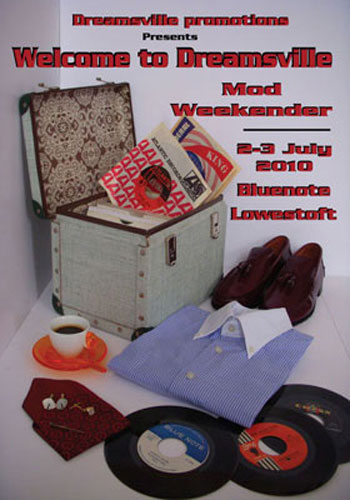 Keith Jones gives us the lowdown on the first Dreamsville Rally.
Since it was first announced that a weekender had been organised for Lowestoft, we had been looking forward to attending the rally for ages. So it was with great eagerness that we left Northampton on the Friday to get there for the evening. The last time that the 'Blue Note' venue was used for a weekend was the 1996 Untouchables Mod Rally and that was tops. The venue was perched on a pier over the beach with a great dance floor and we hoped that the venue would be almost the same as 14 years before…
The first night was from 9 – 2am and we got to the do at a reasonable 10.30 and it seemed many had the same idea. As we pulled up in the taxi, others seemed to be heading for the entrance and it really did seem like we had gone back in time, when you had to queue up waiting to get in, catching up with loads you hadn't seen for a while. The venue had been completely refurbished and work had literally finished that day. So much so, that it seemed the paint was still wet in some places! We walked in and were impressed straight away. Many were at the bar or chatting, spread around the front end of the venue, looking well smart and there was a good feeling of anticipation…. The venue itself was great and although modern and new, it had a great retro dance floor with plenty of coloured lighting illuminating the room and dance floor.
We headed straight for the bar and not being the most patient of people, I gave up after waiting 10 mins, as I could see it was four deep in some places! How many times do we have to say to club owners to get more staff, as we are all a thirsty bunch? And with more bar staff they will sell more beer. Simple. This lack of beer for a while didn't upset me as we quickly got stuck in chatting to loads of people we haven't seen and generally taking it all in. Straight away, the music was full on, good rally stuff and the dance floor was filling nicely, the wait to get a drink abated and we treated ourselves to a few cold kronenburgs. After a while many of us got on the dance floor and continued in the same vein of grooving, chatting, laughing and generally having a good time. All too soon 2am arrived and we happily tumbled out of Blue Note and hung around a bit more before getting our taxis, thinking it had been a great start. We were staying at 'Fricker Mansion', courtesy of Kurt and we carried on with a couple of drinks, reflecting on what a good night it had been and were looking forward to Saturday lunchtime.
Saturday afternoon saw us heading back to the Blue Note to the downstairs bar and again, it was great to see so many old faces looking very smart and enjoying the sounds being played. The atmosphere was great, as most were catching up, perusing vintage clothes and record stalls, having a laugh and watching Germany thrash Argentina in the quarter finals. Outside was a couple of dozen great looking scooters and fair play to all who had rode from their various towns to attend, always brilliant to see. The sun was blistering and quite a few were sitting outside enjoying the weather. I spent my time talking to quite a few old and new friends and a special hello goes out to Graeme and Sarah who had come all the way from Edinburgh to attend Lowestoft – such a friendly couple, typical of many people who had made the effort to come to this weekender. The record and clothes stalls done very well, mainly because the sellers know that if they sell their stuff at a fair price then they'll get a fair trade, rather than some expensive vintage shop. Most tailed off at 5ish, satisfied with the music and that Germany had beaten Argentina and wanting to get ready for the Saturday night.
We arrived for the shenanigans again for 10.30ish and tonight was going on until 4am. Again, up the stairs we went into the venue and this time there was about double the amount of people compared to the previous night, already with a few on the dance floor and still four deep at the bar! Thankfully though, the bar staff had grown to accommodate the bigger, thirsty crowd and getting served was quicker this time. Two pints of cold Kroney in hand, we set off to claim our area near the dance floor. I personally wanted to get alot of dancing in and I feared it was gonna get packed and we wouldn't be able to move soon. With that in mind, I hit the dance floor with a few others quite early and anyway, the music was too good not to. Again the DJs decided to play to the crowd – such a simple philosophy – surely the sounds should be ruled by the dance floor?
As it was, the rotation of DJs meant we heard some cracking stuff – soul, RnB, Latin and a good dose of Ska, which kept everyone happy and plenty were filling the dance floor in appreciation. For me, it was a sheer pleasure to hear and dance to tunes like 'My Baby Has Gone' Untamed, 'Just Say Goodbye' Esther Phillips, 'Reggae Ssh' Zorro 5, 'Baby Never Say Goodbye' Bo Street Runners and 'Gotta Make Her Mine' Hipster Image. And this demonstrates a good cross section of all the classic tunes, forgotten oldies and rarely played gems that you don't hear much elsewhere.
With 220ish people officially through the door, the atmosphere was buzzing, the dance floor was full and the beer was flowing. So many people it seemed were busy enjoying themselves in the club and there were always quite a few outside cooling off in the midnight air, taking it all in and catching up. Even the heat of the whole weekend was tempered by the air conditioning that the club had had installed. Cool man… By 3.30am, things had not slowed down at all and as we headed towards the last half hour, the atmosphere was still great and it was quite surreal to look out of the club windows light was dawning over the sea. In the last section of the night we were treated to a host of tracks by Small Faces, Spencer Davis Group and a personal fave of mine, My World by Secret Affair. When the final record of the night was played, everyone clapped to the last bars of 'Tin Soldier' and it was pretty clear we had all appreciated the whole thing. It was brilliant to see so many people were still there as the lights came on and we all sauntered out in groups to catch taxis or hang around outside into morning light.
A group of us sat on the beach wall and watched as a bunch of mods rolled up their trousers to take a paddle in the North Sea! Girls either hitched up their dresses or trousers and joined a few lads in the surf, albeit for a few minutes. It was good to capture it all on camcorder as the sun was beginning to rise and turn the night sky to a bright blue. For me, the best part of the weekend was the last 45mins of the do and then we lot on the beachfront, a great memory.
After a while, we all decided we had better vacate and grab some sleep and a few of us were left reflecting on an absolute blinder of a weekend. Big thanks go to the organisers of Dreamsville – Kurt Fricker, Matt Hudson, Andrea Mattoni and Lee Miller. Well done to all the evening DJs for playing terrific stuff: Andrea M, Alan Handscombe, Dave Edwards, Mark Thomas, Smiler and Lee Miller. And hello to everyone we saw there, whom we either hadn't seen for years, months or even met just that weekend! All in all, it was an excellent rally and I'm really pleased that I had captured it on film, lots of good tunes & a cracking time. Well done all – here's to the next one!