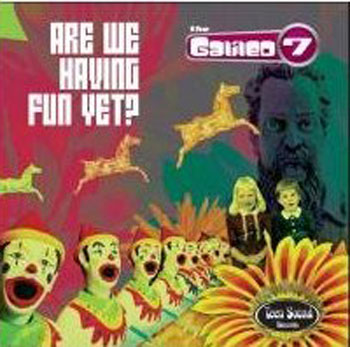 Note that I independently write and research everything in this article. But it may contain affiliate links.
You've probably heard of Allan Crockford. After all, he's done time (so to speak) in The Prisoners, The Solarflares, JTQ, Thee Headcoats and The Stabilisers. Now he's got his own band, going by the name of the Galileo 7 – and Are We Having Fun Yet? is the debut album.
It's an album of ambient electronica. Of course, I joke. It's very much along the lines of all the above, a mix of garage punk and 70s punk, swirling in a touch of late 60s psych for good measure. All of that topped off with a rough 'n' ready production job. Which in my eyes, is a positive, not a negative. In fact, all garage albums should sound like they've been recorded in a garage by law.
14 songs are on the album, all from the pen of Allan Crockford, songs he's apparently been 'storing up' for the last three or four years. As you might have expected, openers Never Go Back and Something Else are pure Solarflares (less the Graham Day vocal), but it's not all like that. Orangery Lane has a psych pop feel, even getting up close with The Beatles' Tomorrow Never Knows in parts, while The Sandman Turns Away has a hint of 60s-era Floyd about it and the incredibly catchy Run Baby Run and Feet On The Ground could pass for the poppier end of mid-to-late 60s beat. You even get an attempt at some old school funk with Feed The Meter. Not a hugely successful one to these ears, but not a disastrous one either.
Yet saying that, the vast majority of tunes on here do follow that tried and tested route of being a modern, harmonic twist on the garage sound. It's what Crockford has done so well in so many different bands. So why change a winning formula? If you're a fan of The Prisoners or indeed The Solarflares, you'll almost certainly love the likes of title track Are We Having Fun Yet?, Go Home, Can't Resist, The Best Way Is Our Way and to a lesser extent Running Through Our Hands. All of it pretty much impossible to criticise.
Conclusion? It's a very good album, without being a groundbreaking one. It's not an album that relies purely on preaching to the converted, it also wears some of the band's influences on its sleeve without being a pastiche of those groups. Not an easy thing to pull off. If you like any of Allan Crockford's past projects, you'll probably want to listen to this. If you like the idea of (fairly) noisy garage, old school punk and some late 60s grooves slugging it out on a long player, you'll love it too.
A fine first effort, I'm already looking forward to the second instalment – and hearing it live.
Find out more about the CD at the Amazon website
Love Modculture? If you enjoy what you read or have benefitted from it and want to help with the ever-increasing costs of the site, you can always buy me a coffee.