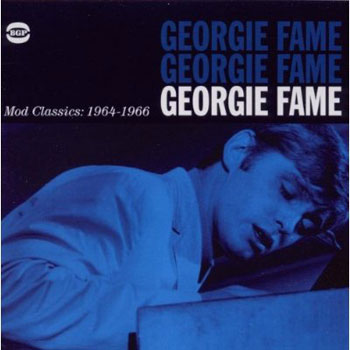 Note that I independently write and research everything in this article. But it may contain affiliate links.
Now around fifty years old, 'Mod' is suffering from something of an identity crisis. It means so many things to so many people the term is largely meaningless. To some it's jazz hipsters prowling the Soho streets at dawn looking for a caffeine fix. For others, it's the amount of targets and arrows you can cram on any available surface. Some want Rickenbackers and windmills; some to brush off the talc from their midnight and six shoes; and to others it's simply indie guitarists with half decent hair.
There should however be no arguments over this new Georgie Fame collection: this is MOD in its purest, purist form. Taking the finest ingredients and influences available before adding its own twist and individual flavour, to come up with something new, something improved, something with even more style, is surely the epitome of mod, and it is hard to think of a better example than what Fame did to the soul, jazz and R&B numbers he famously served to the original mods in the Flamingo Club.
There have been other Fame collections recently, culled from his CBS period, but they've been a poor representation of what he was about and sold off the strength of his club friendly stomp, 'Somebody Stole My Thunder'. The Columbia sides on Mod Classics are bang on the money, with large chunks unavailable since the 60s unless you've scoured second hand record shops (remember those?) or inherited them from hip parents (thanks Mum, thanks Dad). Considering how successful he was (three UK number one singles), how strong his material was, and how easily you can pick up every cough and fart of his contemporaries, this has been a sorry state of affairs and one these 24 tracks selected by Dean Rudland begin to address with real panache.
I could be here all day if I tried to pick out all my favourite tracks. Mostly consisting of up-and-at-'em Hammond and horn workouts, with rich honeyed vocals over the top, it doesn't matter if Georgie Fame and The Blue Flames are doing Stax, Motown, James Brown, Fats Domino or even Hank Williams, they cook up an irresistible soul stew, that to these ears did a remarkable job of, in many cases, bettering the originals. Hear what they did to 'Sweet Thing', 'Last Night' and 'Stomp Soul'. The Blue Flames deserve a special mention here. Their jazz-schooled playing and their arrangements are first class. No tickets. What is also class is the job BGP have done: great booklet, lovely rare photographs by the esteemed jazz photographer Val Wilmer, and most importantly, the sound quality is perfect.
I can think of half a dozen songs off the top of my head ('Green Onions', 'The In Crowd', 'Hi Heel Sneakers' etc) that could've been included here, yet there are only about two I'd possibly leave off. Maybe there's hope for a second volume. In the meantime, it's only January and I'd be amazed if there's a better CD released all year.

Find out more at the Amazon website
(This review first appeared on the Monkey Picks website)
Love Modculture? If you enjoy what you read or have benefitted from it and want to help with the ever-increasing costs of the site, you can always buy me a coffee.