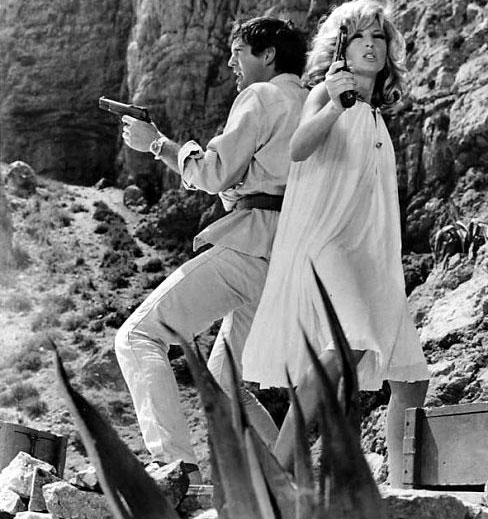 Yeah…..I know….plenty of these around back in the day…and in retrospect it's sometimes hard to separate spoof from serious when it comes to 60's espionage flicks….far easier to sort out the good from the bad, the wheat from the chaff.
If however, like me you can discover and appreciate qualities in almost anything, the term 'style over content' comes in quite handy. This description can be well and truly ascribed to the colourful mess of a film that is Modesty Blaise.
'House Un-American' exile, Joseph Losey had a somewhat chequered career as a film maker perhaps proving the adage 'when he was good he was very good and when he was bad he stunk'…or something like that. He brought us the utterly rivetting The Servant in 1963 and in 1967, Accident – both master classes in psychological thrillers….then there was the following years BOOM…now that one stunk!
In the middle of all this artistry he plugged himself into the swinging pop-art zeitgeist with vigour and took on Peter O'Donnell's comic strip heroine and kind of lost. Monica Vitti looks smashing but hardly sets the screen on fire acting wise whilst Terence Stamp is well..Terence Stamp…pouty, steely and very moddy as sidekick, Willie Garvin..
The star of this brightly coloured belly fluff is Dirk Bogarde whose sharply attired, feminised arch villain, Gabriel, steals the whole shebang. His vaguely bored dandy coming on like a camped up version of his subtly sinister character in The Servant. Played wholly for laughs, the comedy doesn't really work and the plot..ahh..the plot…ain't worth a mention.
The visuals are a knock-out though with set pieces and furniture to die for and has a cracking theme tune…..and in my world that can be all the USP I need…Let it be yours!
Find out more about the DVD at the Amazon website