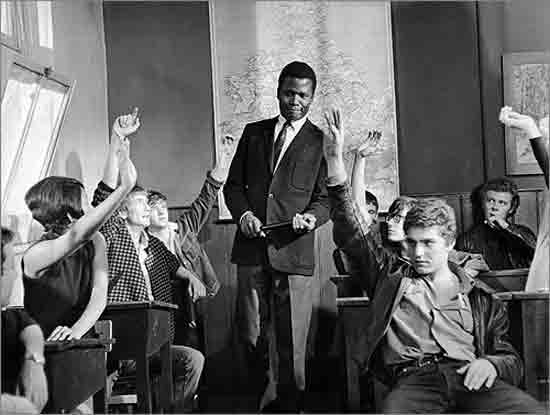 Think sixties and it's hard to avoid the word 'swinging' in the same sentence. British cinema audiences of the era didn't want misery on the big screen when they left their miserable jobs – they wanted glamour, colour and above all, entertainment.
Yes, there were gritty movies (Poor Cow and Up The Junction spring to mind), but they were vastly outnumbered by the bubblegum flicks. To Sir With Love, despite its best intentions, is very much the latter.
Based on ER Braithwaite's real-life novel, Sidney Poitier is Mark Thackeray, an idealistic teacher forced to take a job in a run-down school – and then being given the most disruptive class. After failing to communicate using traditional academic methods, he takes a different approach, teaching them life skills as adults in readiness for their life outside school. He eventually wins their respect and changes their attitude. But when a job in his chosen profession of engineering comes along, he has to decide where his future really lies.
Despite its best intentions, the use of over-age stage school actors (and Lulu) as the classroom tearaways seriously sells the film short as a piece of inner-city grit. Let's face it, they're just a little too groomed and well-spoken. And some of the issues – especially racism and the teenage crush – are skirted over as lightly as possible. But once you accept this isn't Ken Loach territory, you'll certainly enjoy it as the entertaining period piece it is.
The fashions are great, the theme tune a gem and the plot, although sometimes heavy on the cheese, just about passes the test. Judy Geeson steals every scene (even pushing Suzy Kendall into a background role), Lulu is bearable and Sidney Poitier is excellent (if a little stiff) as the forward-thinking teacher.
Certainly not a sixties classic, but a great piece of period entertainment for any fan of the era.
Find out more about the DVD at the Amazon website