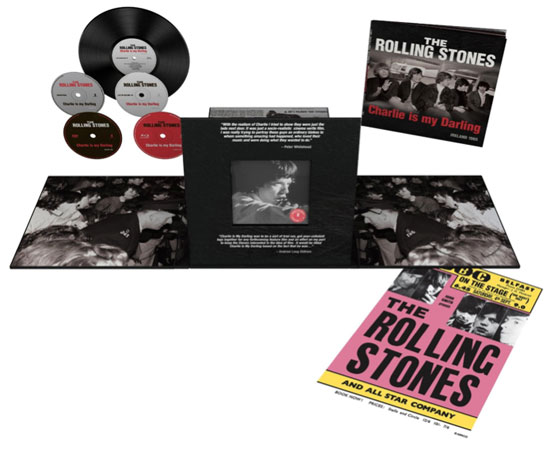 We mentioned the release of the long lost Rolling Stones movie Charlie Is My Darling on our Facebook page and it caused a good amount of interest. The details of the Super Deluxe Edition might push things up a notch further.
As you might know, Charlie Is My Darling dates back to 1965, directed and produced by Peter Whitehead and Andrew Loog Oldham respectively and essentially a  movie record of the band as they toured Ireland in 1965, including the first professionally filmed band footage, diary-style discussions with the band offstage and footage of the band travelling around the country, hanging out and so on.
It has been restored to its former glory, complete with bonus, never before seen footage and is available on DVD and Blu-ray, as well as this pretty special box set.
The box includes both the original release and a later (and longer) version  that appeared via Oldham. But there's also the restored version, coming in at an even longer 65 minutes, including that 'lost' footage. That's on both DVD and Blu-ray, along with additional material from Dublin and Belfast on the same tour.
But that's not all. You also get two audio CDs, one of which is the film's soundtrack album and the other a compilation of 13 live recordings the band made over the course of their 1965 UK tour. On top of that, a 10-inch vinyl record of the live material is also part of the package, as well as a replica poster heralding the September 4, 1965 date they played in Belfast.
The packaging of the box also includes one of over 200 limited edition numbered and enlarged cells randomly inserted from the film and a 42-page collector's edition hardcover book that includes 14 never before seen photographs, reprints of vintage newspaper and magazine articles from the UK and Irish press and essays from David Fricke and Glen Hansard.
It's available for pre-order now, with Amazon selling it for £65. The release date is 5th November 2012. Look out for showing at cinemas around that time and check out the tracks on the music CDs below.
Find out more at the Amazon website
Original Soundtrack – track listing
1) Play With Fire – The Aranbee Pop Symphony Orchestra
2) Heart Of Stone – The Rolling Stones
3) Who Do You Like In The Group? – Peter Whitehead and Fans
4) The Last Time (Live) – The Rolling Stones
5) Time Is On My Side (Live) – The Rolling Stones
6) I´m Alright (Live) – The Rolling Stones
7) The Next House We´ll Turn The Screaming Down – Andrew Loog Oldham and Priest
8) Theme For A Rolling Stone – The Andrew Oldham Orchestra
9) Nice Tea – The Rolling Stones and Andrew Loog Oldham
10) Maybe It´s Because I´m A Londoner – ALO Productions
11) Play With Fire – The Rolling Stones
12) Tell Me – Mick Jagger, Keith Richards and Andrew Oldham
13) Heart Of Stone – The Andrew Oldham Orchestra
14) Are You Going To The Show Tonight? – Peter Whitehead and Fans
15) Everybody Needs Somebody To Love (Live) – The Rolling Stones
16) Pain In My Heart (Live) – The Rolling Stones
17) Blue Turns To Grey – The Andrew Oldham Orchestra
18) Subconsciously Supernatural – Mick Jagger and Andrew Oldham
19) (I Can´t Get No) Satisfaction – The Andrew Oldham Orchestra
20) The Moon In June – Mick Jagger
21) (I Can´t Get No) Satisfaction (Live) – The Rolling Stones
22) Going Home – The Rolling Stones
Live In England 1965 – Track Listing/CD
1) Show Intro
2) Everybody Needs Somebody To Love
3) Pain In My Heart
4) Down The Road Apiece
5) Time Is On My Side
6) I'm Alright
7) Off The Hook
8) Charlie's Intro to Little Red Rooster
9) Little Red Rooster
10) Route 66
11) I'm Moving On
12) The Last Time
13) Everybody Needs Somebody To Love (Finale)
Live In England 1965 – Track Listing/10" Vinyl
Side 1
1) We Want The Stones
2) Everybody Needs Somebody To Love
3) Pain In My Heart
4) Down The Road Apiece
5) Time Is On My Side
6) I'm Alright
7) Off The Hook
Side 2
8) Charlie's Intro to Little Red Rooster
9) Little Red Rooster
10) Route 66
11) I'm Moving On
12) The Last Time
13) Everybody Needs Somebody To Love (Finale)