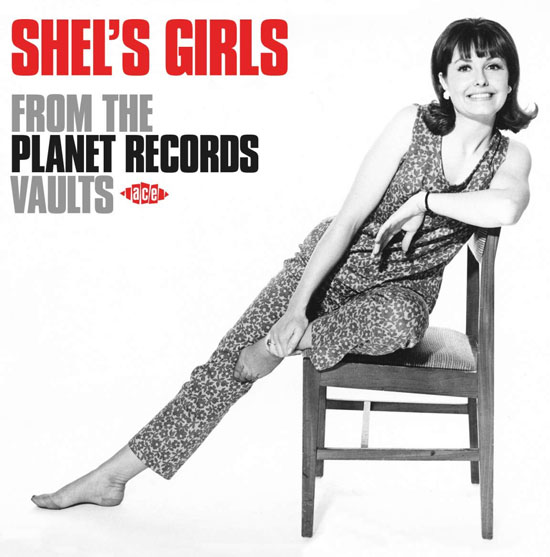 An interesting release from Ace Records, with the Shel's Girls – From The Planet Records Vaults CD landing later this month.
It's part of an ongoing series of Shel Talmy releases from Ace. You might recall the Planet Beat compilation as well as the earlier Planet Mod compilation and the Making Time – A Shel Talmy Production album. All of which are well worth checking out.
This one sounds a winner too. Shel Talmy was the American producer known for overseeing acts such as the Who, Kinks and Easybeats in their early days, taking them to the top of the charts with his productions. But he did more than that – and Ace Records has been busy digging the archives to shed some light on his other work.
Shel's Girls pulls together the best moments from Talmy's female disc-making of the mid-60s, adding several unheard gems recently discovered in is amazing archive of work. If girl pop/beat of the 1960s appeals. this should too.
Fans of the genre will perhaps know The Orchids, Perpetual Langley or Dani Sheridan. But Liz Shelley, Van Lenton and Dusty/Gingerbreads acolyte Stevie Holly perhaps might not be so familiar. Also here are Irish showband stars Margo & the Marvettes, South Coast boy-girl outfit the Plain & Fancy, and the anonymous young women who chant the classic-in-the-making Grave Digger. The Motown-grooving 'A Shoulder To Cry On from former Family Dogg member Christine Holmes dates from 1969; at the other end of the decade, Debbie Sharron's teen weepie Cruel Way To Be is a rare Hollywood production from 1962, just before Talmy left for the UK.
The CD comes with 'detailed notes' and visuals from Talmy's own archive, all painting a picture and offering background of the era and the music featured here.
It lands on 27th September 2019 and is available to pre-order now, selling for £13.76.
Find out more about the CD at the Amazon website
Tracklisting:
1. No More Love – Liz Simcock
2. Surrender – Perpetual Langley
3. Guess I'm Dumb – Dani Sheridan
4. Oo-chang-a-lang – The Orchids
5. You Don't Care – Van Lenton
6. Say You Will – Margo & The Marvettes
7. A Ladies' Man – Colette & The Bandits
8. Make Me Your Baby – Liz Shelley
9. Cruel Way to Be – Debbie Sharron
10. We Wanna Stay Home – Perpetual Langley
11. Songs of Love – Dani Sheridan
12. Surrender – Plain & Fancy
13. A Shoulder to Cry On – Christine Holmes
14. Gonna Make Him Mine – The Orchids
15. Don't Forget – Sherri Weine
16. You Made Me Hurt – Liz Shelley
17. Gotta Get Away – Van Lenton
18. Grave Digger – Unknown Beat Girls
19. Two By Two – Perpetual Langley
20. A Strange World – Stevie Holly
21. Stay at Home – The Orchids
22. This Heart Is Not for Sale – Margo & The Marvettes
23. Tar and Cement – Liz Shelley
24. So Sad – Perpetual Langley