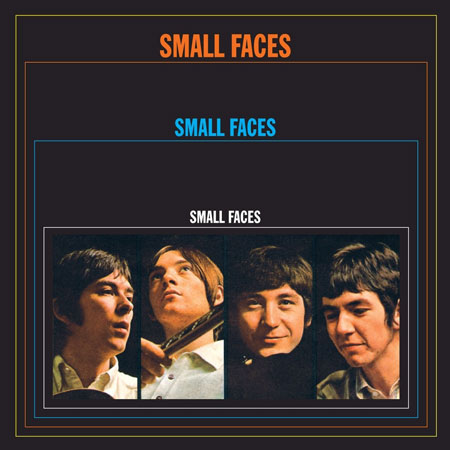 Another set of reissues, this time focusing on the Small Faces self-titled Immediate album from 1967.
Let's check out the vinyl first, which is described as a 'limited edition LP', which was cut direct from recently discovered analogue master tapes on a Neumann VMS 80 mastering lathe by Matt Colton at Air Studios during February 2012, under the supervision of Kenney Jones and Small Faces remastering engineer Nick Robbins. The album is on heavyweight 180-gram vinyl and apparently a 'lavish recreation of the original Immediate mono LP', adding in an exclusive illustrated inner sleeve featuring sleeve notes, photos and full band credits and recording details.
Tracklisting:
1. (Tell Me) Have You Ever Seen Me
2. Something I Want to Tell You
3. Feeling Lonely
4. Happy Boys Happy
5. Things Are Going to Get Better
6. My Way of Giving
7. Green Circles
8. Become Like You
9. Get Yourself Together
10. All Our Yesterdays
11. Talk to You
12. Show Me the Way
13. Up the Wooden Hill to Bedfordshire
14. Eddie's Dreaming
It is available from 10th November and retails for £20.99.
Find out more at the Amazon website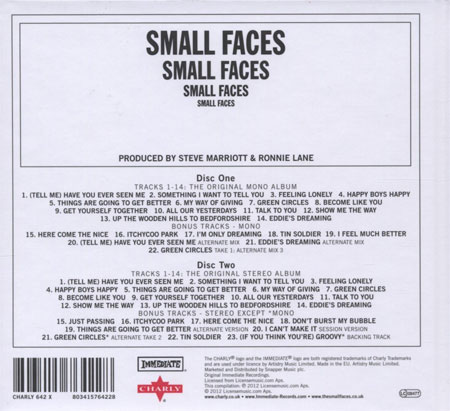 Alternatively, pick up the 2CD digibook edition of this, which offers a lot for the money. Specifically, you are looking at the original mono and stereo albums plus 17 bonus tracks including unreleased alternative versions, along with a 24-page booklet including notes by Mojo journalist Mark Paytress.
Tracklisting for all of that below. Another 10th November release, selling for £10.99.
Find out more at the Amazon website
Tracklisting:
Disc: 1
1. (Tell Me) Have You Ever Seen Me
2. Something I Want To Tell You
3. Feeling Lonely
4. Happy Boys Happy
5. Things Are Going To Get Better
6. My Way Of Giving
7. Green Circles
8. Become Like You
9. Get Yourself Together
10. All Our Yesterdays
11. Talk To You
12. Show Me The Way
13. Up The Wooden Hills To Bedfordshire
14. Eddie's Dreaming
15. Here Come The Nice
16. Itchycoo Park
17. I'm Only Dreaming
18. Tin Soldier
19. I Feel Much Better
20. (Tell Me) Have You Ever Seen Me (Alternate Mix) – Mono)
21. Eddie's Dreaming (Alternative Mix) – Mono)
22. Green Circles (Take 1 – Alternate Mix) – Alternate Mix 3
Disc: 2
1. (Tell Me) Have You Ever Seen Me
2. Something I Want To Tell You
3. Feeling Lonely
4. Happy Boys Happy
5. Things Are Going To Get Better
6. My Way Of Giving
7. Green Circles
8. Become Like You
9. Get Yourself Together
10. All Our Yesterdays
11. Talk To You
12. Show Me The Way
13. Up The Wooden Hills To Bedfordshire
14. Eddie's Dreaming
15. Just Passing
16. Itchycoo Park
17. Here Come The Nice
18. Don't Burst My Bubble
19. Things Are Going To Get Better (Alternate Mix) – Stereo)
20. I Can't Make It (Session Version) – Stereo)
21. Green Circles (Alternate Mix – Take 2) – Mono)
22. Tin Soldier
23. (If You Think You're) Groovy (Backing Track) – Mono)