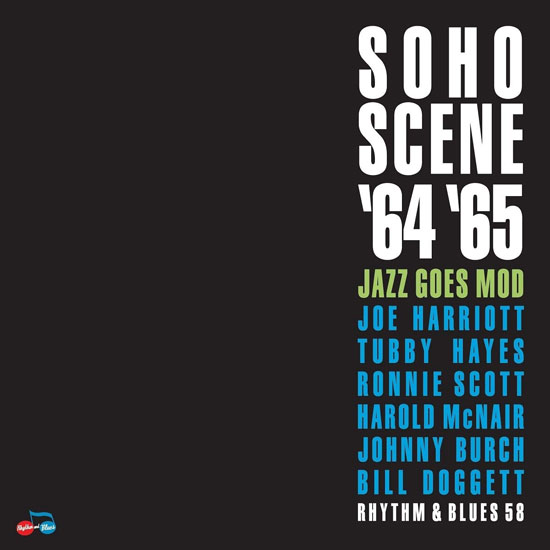 Just out is the latest collection in this ongoing series – Soho Scene 1964-65 (Jazz Goes Mod).
A lot of music for your money too, courtesy of RnB Records. What's it all about. Well, the official write-up says…
As the UK fired up to the 'White Heat' predicted by its new Prime Minister Harold Wilson, the nation's jazz scene was already aglow with talent, both established and up and coming.
Indeed, London was a boiling crucible of jazz invention, mixing R&B, Hard Bop and a pinch of the Avant-Garde to forge its very own alchemic brand of jazz. Soho Scene '64/'65 captures this moment perfectly, a time when The Beatles and Bond were both new and fresh and when Brit-Jazz sounded as colourful and swinging as anything sashaying down Carnaby Street.
That's pretty much all you need to know except for track listing of this four-disc set, outside of the tracklisting, which you can find below.
If you want a copy, the set sells for £19.60.
Find out more at the Amazon website
Disc One British Jazz 1964
1. Down Home Dick Morrissey Quartet
2. Poncho Harry South Big Band
3. Mark 1 John Dankworth
4. The Killers Of W1 Tubby Hayes Big Band
5. Night Talk Johnny Scott
6. All Members Johnny Burch Octet
7. Wranglin' Ernest Ranglin Trio
8. Sweet Lotus Blossom Ronnie Scott Quartet
9. This I Dig Of You Harold McNair Four
10. Fye On Sinful Fantasy Elaine Delmar
11. Rustic Gait Ronnie Ross
12. The Syndicate Tubby Hayes Quintet
13. Manners Maketh Man Dave Lee
14. Taurus John Dankworth
15. Tribal Dance Humphrey Lyttelton
16. McTaggart New Departures Quartet
17. Puck Ken Jones Orchestra
Disc Two Jazz U.S.A. 1964
1. Summertime Walter Bishop Jr. Trio
2. Open Highway Teri Thornton
3. Nightingale Willis Jackson
4. Turkish Black The Jazz Crusaders
5. Up In Betty's Room Don Patterson
6. Gettin' It Togetha' Bobby Timmons
7. Pigmy Billy Larkin
8. A Taste of Honey Oliver Nelson Orchestra
9. Project S Milt Jackson
10. Blues For Mr. Charlie Bobby Sharp
11. C.E.D. Sounds Of Synanon
12. Chip !! Chip !! Jimmy McGriff
13. Way Down East Clare Fischer Trio
14. Travel On Ramsey Lewis Trio
15. Snatchin' It Back Jimmy Wilkins Orchestra
16. Watermelon Man Lou Bennett
17. El Soulo Les McCann
18. Gospel Bird Ray Bryant
19. Tough Talk Panama Francis
20. Si Si Cisco Bill Doggett
21. Groovy Blues Tommy 'Madman' Jones
22. Theme From A Boy Morris Nanton
23. Running Upstairs Junior Mance
24. Getting Together Herb Goody
25. Subway Scene The Hoctor Band
26. Summertime Ernie Shelby
Disc Three British Jazz 1965
1. Affectionate Fink Harold McNair
2. By Request Peter Comton Big Band
3. Six To One Bar Harry South Big Band
4. Glass Of Cool Wine Wes Montgomery
5. Waterloo Dudley Moore Trio
6. One By One Tubby Hayes Big Band
7. A Hard Day's Night Joy Marshall
8. Ritual Johnny Burch Octet
9. Number Three John Stevens Septet
10. The Arch Harry Klein Quartet
11. Pete's Tune No. 1 Pete King
12. Wardour Street Waltz Ronnie Ross/Sage Quartet
13. Night Has A 1000 Eyes Ronnie Scott
14. To Segovia Mike Taylor Quartet
15. Fool's Paradise Georgie Fame
16. Big City Strut Col Richards Combo
17. Mcghee Mcghee Roy Budd
18. Song Of The Cuckoo Johnny Scott Orchestra
Disc Four Jazz U.S.A. 1965
1. Feeling Good Ahmad Jamal
2. Troubles Of The World Morris Nanton
3. The Cobra Dennis Budimir
4. Five More Merle Saunders
5. Freedom Ride Dannie Richmond's Crowd
6. Satisfaction Don Patterson
7. Let's Get It On Sonny Knight Quartette
8. Soulero Eddie Higgins Trio
9. Silk 'n' Soul (edit) Brother Jack McDuff
10. After This Message Mitchell-Ruff Trio
11. Manteca Clare Fischer Orchestra
12. Everytime I Think About Teri Thornton
13. The Grabber Les McCann Ltd
14. John Brown's Body Monty Alexander
15. Spider Man Freddie McCoy
16. Daily Double Charles Earland
17. Rivers Invitation Ernie Andrews
18. Waltzing With Parson Hindal Butts Trio
19. Love Theme Madame X Quartette Tres Bien
20. Theme from Bewitched Jimmy Smith
21. Soul Message Richard Groove Holmes
22. Next Time You See Me Freddie Roach
23. Funky Soul Terrell Prude
24. Feeling Good Lainie Kazan