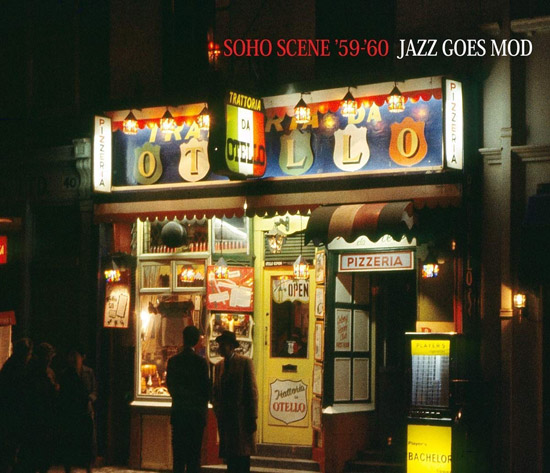 Note that I independently write and research everything in this article. But it may contain affiliate links.
Usually released as vinyl albums, but the Soho Scene 59-60 Jazz Goes Mod box set goes down the CD route.
A new release available to pre-order right now, this is a four-disc set from Rhythm and Blues Records containing material you might already own and some you might not.
It all depends if you have invested in the previous vinyl releases. This set covers 1959 and 1960 and there was a vinyl release some tine back covering the 1960 output, which seems to be the same as the tracks on this disc. But as far as I can see, there hasn't been a 1959 set, so that should be all-new.
The overall set promises to pit 'Britain's finest jazz tracks of 1959-1960' against 'the very best music coming out of the States at the same time', showing that British modernists could at last stand tall among jazz music's giants.
Soho Scene 59-60 Jazz Goes Mod has been put together by Nick Duckett and sleeve notes are the work of Paul 'Smiler' Anderson. It lands on 30th November 2018 and is available to pre-order now. the four-disc set costs £20.73. Track listed below.
Find out more about the CD set at the Amazon website
DISC ONE BRITISH JAZZ 1959
1. Wilton's Mood Wilton Gaynair
2. Mine Still Eddie Thompson Trio
3. London Lament London Jazz Quartet
4. The Golden Striker Jack Parnell
5. Embargo On Escargot Tommy Watt
6. Senor Blues Joe Harriott
7. Beaulieu Blues Vic Lewis
8. The Real Funky Blues The Jazzmakers
9. New Horizons Tommy Whittle
10. Blues In Trinity Dizzy Reece
11. The Willow Pete Pitterson
12. We'll Call You Stan Tracey
13. Dauphine Blues Johnny Dankworth
14. Jamba Jazz Inc
15. Cobwebs Vic Ash Quintet
16. In Salah The Jazz Couriers
17. Blue Hayes Tubby Hayes
18. Too Cool For Blues Kenny Baker
19. Tracy's Theme The M.J.6
DISC TWO JAZZ U.S.A 1959
1. No Hay Problema Art Blakey
2. Blowin' The Blues Harold Land
3. Night Cry Barney Kessel
4. Golden Earrings The Mastersounds
5. Boogie Stop Shuffle Charlie Mingus
6. Sister Sadie Horace Silver
7. The Sermon Jimmy Smith
8. This Here Bobby Timmons
9. Little Susie Ray Bryant Combo
10. Go To Hell Mr. Billy Paul
11. As Catch Can Gerry Mulligan
12. Naima John Coltrane
13. Grand Central Cannonball Adderley
14. Backwards Bill Doggett
15. Three Squares & A Bunk Oscar Brown Jr
16. Caesar's Pad Googie Rene
17. Two For The Blues Bo Rhambo
18. Viper's Blues Herbie Alpert
19. Monday Night At 8pm Harvey Anderson
20. Mr. Lee's Plea Mr. Lee
DISC THREE BRITISH JAZZ 1960
1. Southern Horizons Harry South Big Band
2. Samba De Janeiro Tony Crombie
3. One For Picka Ernest Ranglin Trio
4. Threesome Dill Jones Trio
5. I'm Gonna Go Fishin' The New Jazzmakers
6. Treasure Drive John Dankworth
7. Little Darlin' Vic Lewis
8. Mirage London Jazz Quartet
9. Tuesday Morning Swing Joe Harriott Quintet
10. Still Life The Jazz Five
11. All Blue Victor Feldman
12. Kingston by Pass Wilton Gaynair
13. The Rebound Dizzy Reece
14. Too Close For Comfort The Jazz Couriers
15. The Moonbather The Jazzmakers
16. St. Vitus Dance Tubby Hayes
17. Midnite Jump Little John Anthony
18. Swingin Preacher Big Doll
19. Bluesville Ken Jones
DISC FOUR JAZZ U.S.A 1960
1. But I Was Cool Oscar Brown Jr.
2. Saudi Lenny McBrowne
3. Why Don't You Do Right Helyne Stewart
4. Sack of Woe Nat Adderley
5. G'wan Train Quincy Jones
6. African Dance International All Stars
7. Husky Larry 'Wild' Wrice
8. Double Talkin' Maxcine Dixon
9. Triste Armando Peraza Trio
10. Terrible "T" Lee Morgan
11. Me and My Lover Billy Higgins
12. Sad Sacks Sunny Harris
13. Wailin' Lionel Hampton
14. Funky Festival Rune Overman Trio
15. Herman's Blues Herman Foster
16. Young Blues Larry Young
17. Back At The Chicken Shack Jimmy Smith
18. Twist This Ram Ramirez
19. West Coast Blues Ernie Andrews
20. Cool Grits Willis Jackson
Love Modculture? If you enjoy what you read or have benefitted from it and want to
help with the ever-increasing costs of the site and newsletter
, you can always
buy me a coffee at Ko-Fi
. Every penny is helpful and appreciated.