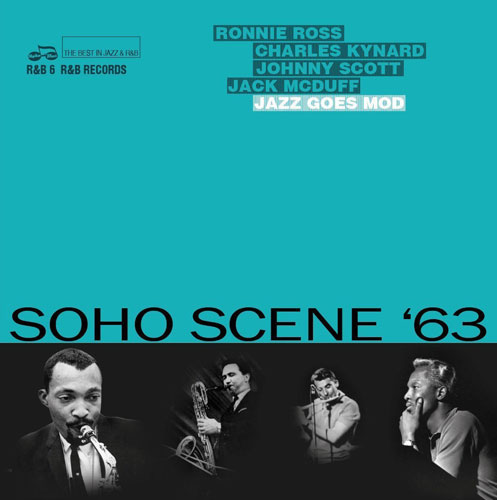 You might recall the original vinyl from 2015. Following on from that is an expanded Soho Scene '63 (Jazz Goes Mod) from Rhythm and Blues Records.
The vinyl was a 16-track set, but the CD version takes things up a notch with a total of 49 tracks over the two discs, all of which are listed below. The thinking behind it? Read on…
Rarely has a new year caught the British jazz scene in such as state of flux.' So began an article in Melody Maker on January 5th 1963, commenting on new trends it had noticed in modern jazz. The Trad Boom seemed to be finally over, while Rhythm and Blues, the new style that had latterly begun to feature in London jazz hot spots like The Flamingo and The Marquee, had yet to truly prove its worth.
Mid 1963, R&B and Soul Jazz were beginning to feature in jazz hot spots like The Flamingo and The Marquee in Soho. The record industry was drip-feeding the work of the capital's modernists to the record buying public via the jazz single. And they were all at it: Shake Keane, Vic Ash, Johnny Dankworth, Johnny Scott, even Tubby Hayes.
1963 was a year of transition twelve months in which Britain's modern jazzmen went from chasing hits and following fashion to realising their own worth as artists. Where they went next is quite a story, but meanwhile this collection gives you plenty of juicy tracks to get your teeth into.
The compilation is by Nick Duckett, with sleevenotes Paul 'Smiler' Anderson and Simon Spillett. 8th December 2017 is the release date, with pre-order copies at £10.75.
Find out more at the Amazon website
Track listing:
Disc one:
1. Cleopatra's Needle Ronnie Ross Septet
2. Hum Drum Blues Elaine Delmar
3. Walk on the Wild Side Victor Feldman
4. I Believe In You Tubby Hayes Quintet
5. Theme Beyond The Fringe Dudley Moore Trio
6. Five To Four On Dave Lee
7. One Way Pendulum Johnny Scott Quartet
8. Mike's Dilemma Emcee Five
9. Have Jazz Will Travel The Jazz Stars
10. Autumn In Cuba Bill Le Sage/Ronnie Ross Quartet
11. Vishnu Michael Garrick Trio
12. Murmurio Shake Keane & The Boss Men
13. Last Minute Bossa Nova Vic Lewis & Bossa Nova All Stars
14. Soul Bossa Nova Alan Elsdon's Band
15. Banco Vic Ash & The Men Of Action
16. Wildcat Bossa Nova The Johnny Scott Octet
17. Bowing 707 Johnny Hawksworth Trio
18. Take Four Dave Lee
19. One Mint Julep Humphrey Lyttelton & His Band
20. Hoe Down Johnny Dankworth
21. Dodgy Waltz Ken Jones
22. Moanin' Beryl Bryden
23. Vendaval Shake Keane
24. Sally Tubby Hayes Quintet
25. There's A Plot Afoot The Laurie Johnson Orchestra
Disc two:
1. Hang Tough Sounds Of Synanon/Joe Pass
2. Soppin' Johnny Hartsman
3. 4 – 11 – 44 Pony Poindexter
4. No Big Thing (Pt. 1 & 2) Loyd Fatman
5. Where's It At Charles Kynard Quartet
6. Sticks & Stones (Pt. 1 & 2) Gene Ludwig
7. Jazz in Port Said Eddie Kochak/Hakki Obadia
8. Bossa Nova Ova Billy Mitchell Quintet
9. Who Will Buy Dave Pike
10. Jungle Cat (Pt. 1 & 2) Jimmy McGriff
11. Tough Talk The Jazz Crusaders
12. Minerology Chris Columbo Quintet
13. Princess Terrell Prude
14. Days Of Wine & Roses The Quartette Trés Bien
15. Hobo Flats Damita Jo
16. Sanctification Jack Wilson
17. Africa Laments The Afro Americans
18. Here 'Tis Now Butch Cornell's Trio
19. Money Getting Cheaper Jimmy Witherspoon
20. Jerking Jazz Style Timmy Sims
21. Crosstalk Clifford Scott Quintet
22. Skunky Green Hank Crawford Octet
23. Yellin' Tyrone Parsons
24. Blues At Dawn Eddie Baccus