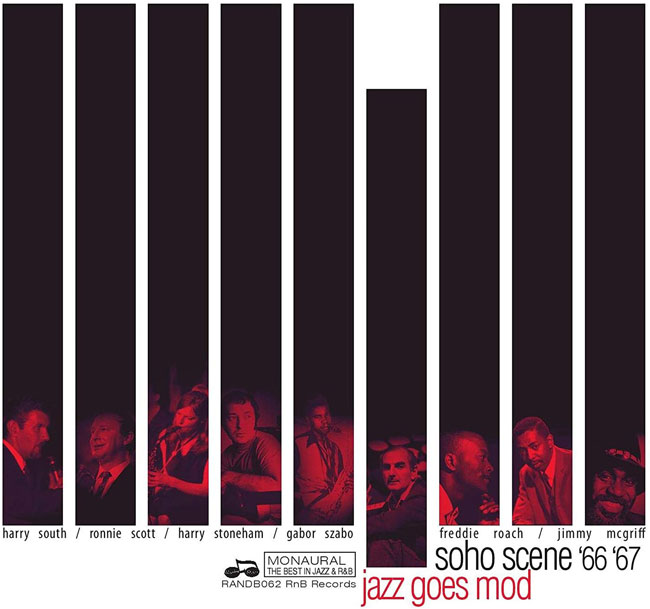 The next instalment of the ever-popular series is coming your way. That's the Soho Scene 66-67 (Jazz Goes Mod) CD box set.
What's it all about? This is the official write-up ahead of the launch:
1966-1967. Two years of seismic change in UK history, a time of World Cup wins, of psychedelic 'happenings' and Sgt. Pepper, when London's streets rocked to the sight of mini skirts and Mini Coopers and home-made British pop culture – drawing in everything from satire to sitars – really did look likely to change the world.
British jazz was growing too. Having defined itself through the razor-sharp cool of 'modernism', by '66 it was ready to loosen its collar and let its hair down, feeding directly from an anarchic new breed of young musicians able to move between styles as never before, allowing everything from the avant-garde to R&B colour their work.
London was now swinging in every direction, like some vast kaleidoscopic merry-go-round. This, then, is the story of those British jazzmen who came along for the ride, some clinging on with white-knuckles and gritted teeth, others enjoying the trip of their lives.
Four CDs of the stuff from that era, with the tracklisting below, should you require it. The release date for this one is 4th September 2020 and the price is just over £20.
Find out more at the Amazon website
Tracklisting:
Disc One – British Jazz 1966
1. Humphrey Lyttelton – Men From Auntie
2. Ian Hamer Sextet – What's Her Name?
3. Mike Carr Trio – Cox's Pippin
4. Tubby Hayes Quartet – Change of Setting
5. Gordon Beck Trio – Virgo
6. Rendell/Carr Quintet – Tootin' And Flutin'
7. Ronnie Scott – Treat It Lightly
8. Stan Tracey Quartet – Pig and Pepper
9. Michael Garrick Sextet – Shiva
10. The Les Condon Quartet – Freedom Monday
11. John Surman Quartet – Blues Da Camera
12. Alex Welsh & His Band – Bluesology
13. Johnny Scott & Orchestra – Punjab
14. Danny Moss – Dear Old Stockholm
15. Ronnie Ross – Ugetsu
16. Kenny Clare & Ronnie Stephenson – Afro-Charlie
17. Neil Ardley New Jazz – Big P
18. Rollins, Tracey, Goldberg, Laird, Seamen – Themes From Alfie
Disc Two Jazz USA 1967
1. Freddie McCoy – Lonely Avenue
2. Jimmy Coe – Cold Jam for Breakfast
3. Charlie Earland – The Dozens
4. Pucho & The Latin Soul Brothers – What A Piece
5. Jimmy Tillman Quartet – Vampire
6. Les McCann Ltd – Bat Man
7. Gabor Szabo – Mizrab
8. Milt Jackson – A Time And A Place
9. Merle Saunders – Soul Roach
10. Prince Lasha Ensemble – Nuttin' Out Jones
11. Hugh Masekela – Unhlanhla
12. Richard "Groove" Holmes – Boo-D-Doo
13. The Three Sounds – Mohair Sam
14. Birds Of Paradise – Bossa Blue Port
15. Freddie Roach – One Track Mind
16. Jimmy McGriff – Hallelujah
17. Sarah Cantine & Her Trio – Feeling Good
18. Eric Kloss – Just For Fun-K
19. Ken Jensen Quartet – Captain Jack
20. Gene Ludwig – Soul Mountain
21. Milt Sealey Trio – Black Diamond
22. Kenny Rankin – In The Name Of Love
Disc Three – British Jazz 1967
1. Harry South Big Band – Limited Freedom
2. Carmen McRae w. Johnny Keating – Got To Get You Into My Life
3. Mike Carr Quartet – Nico's Dream
4. Tubby Hayes Quartet – Finky Minky
5. Joe Harriot Quintet – Strollin' South
6. Tony Coe – Baby Blue
7. Stan Tracey Big Band – Murdering The Time
8. Johnny Scott Quintet – It's For You
9. Dave Lee Quintet – Time Check
10. Dudley Moore Trio – Rupert's Romp
11. Dick Morrissey Quartet – Le Roi
12. Georgie Fame Quartet – Serves Me Right To Suffer
13. Mike Carr Quartet – Bells Blues
14. Ike Isaacs – Sad September
15. Eric Delaney & Louie Bellson – Blues March
16. Humphrey Lyttelton Big Band – Blue Monk
17. Johnny Hawksworth – Listen To Music
18. Stan Tracey Quartet – Everywhere Derriere
Disc Four – Jazz USA 1967
1. Curtis Amy Septet – Mustang
2. The Young-Holt Unlimited – Yon Gimmie Thum
3. Johnny Lytle Quartet – ‎Gonna Get That Boat
4. Fred Ramirez – Comin' Home Baby
5. Jerome Richardson – Sunny
6. Les McCann – Bucket O' Grease
7. Jimmy Owens/Kenny Barron – You Had Better Listen
8. The Lightmen – Luke
9. Chico O'Farrill Orchestra – Hip Hug Her
10. Byrdie Green – In The Dark
11. Cash McCall – You Ain't Too Cool
12. Hank Jacobs – East Side
13. Johnny Hammond Smith Septet – Dirty Apple
14. The Latin Jazz Quintet – Daria
15. Freddie McCoy – Peas 'n' Rice
16. Lionel Hampton – Greasy Greens
17. Harold Johnson Sextet – Sorry Bout That
18. Ray Pettis – 2 Step
19. Odell Brown & The Organ-Izers – Quiet Village
20. The Soul Society – The Sidewinder