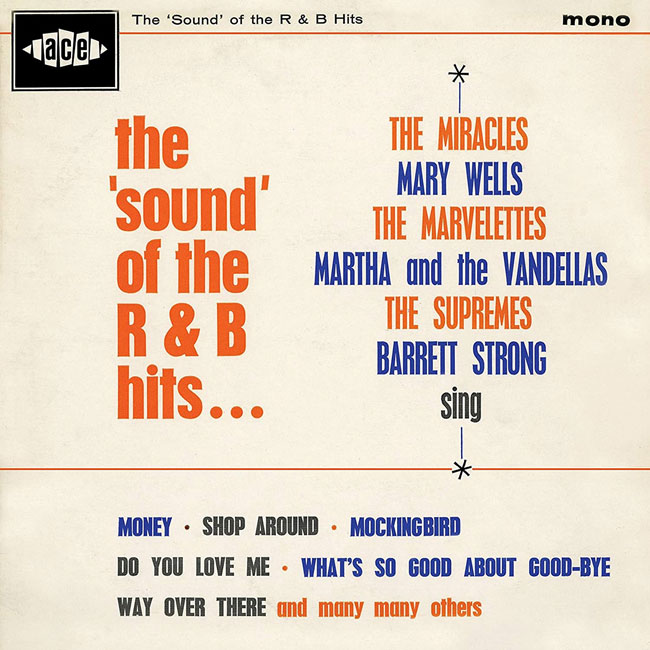 The first-ever Motown compilation in the UK is back, with The Sound Of The R&B Hits arriving with a pile of extra tracks.
Man6y UK acts (such as the Rolling Stones and Georgie Fame) were getting success playing and recording Motown, leading to the arriving of The Sound Of The R&B Hits, a compilation of original studio tracks. Rather than just replicate the album, Ace Records has doubled the album in size, describing the end result as tracing 'the evolution of Motown in the UK to the moment it scored its first chartbuster in May 1964'.
Much of the album's success (although it was only limited success at the time) was down to The Beatles' love of the band and the band's covers. With The Beatles, the group's second album released a few months earlier, included versions of three Motown songs and the sleevenotes made clear the Beatles' 'immense admiration' for the Miracles. As a result, five tracks by the band were featured on here.
That leads to something of a 'quirky' list of tracks overall, so to balance things out, the Ace team has selected 14 tracks from the same era to 'complement the Stateside compiler's concept' of the sound that identified the label at the time.
28 tracks now here, none of which were hits in the UK at the time. But all wonderful tunes. It lands on 25th September 2020 and is available to pre-order now for around £15.
Find out more at the Amazon website
Tracklisting:
1. Shop Around – Mary Wells
2. Way Over There – The Marvelettes
3. Everybody's Gotta Pay Some Dues – The Miracles
4. Mockingbird – Martha & The Vandellas
5. Bye Bye Baby – Mary Wells
6. I'll Try Something New – The Miracles
7. Dream Baby – The Marvelettes
8. Money (That's What I Want) – Barrett Strong
9. What's So Good About Goodbye – The Miracles
10. Let Me Go The Right Way – The Supremes
11. I Don't Want To Take A Chance – Mary Wells
12. Broken Hearted – The Miracles
13. The One Who Really Loves You – The Marvelettes
14. Do You Love Me – The Miracles
15. Can I Get A Witness – Marvin Gaye
16. Please Mr Postman – The Marvelettes
17. You've Really Got A Hold On Me – The Miracles
18. You Beat Me To The Punch – Mary Wells
19. Pride And Joy – Marvin Gaye
20. Oh I Apologize – Barrett Strong
21. I Found A Girl – The Valadiers
22. I Want A Guy – The Marvelettes
23. Hitch Hike – Marvin Gaye
24. I've Been Good To You – The Miracles
25. Two Lovers – Mary Wells
26. I Found Myself A Brand New Baby – Mike & The Modifiers
27. Shake Sherry – The Contours
28. Heat Wave – Martha & The Vandellas