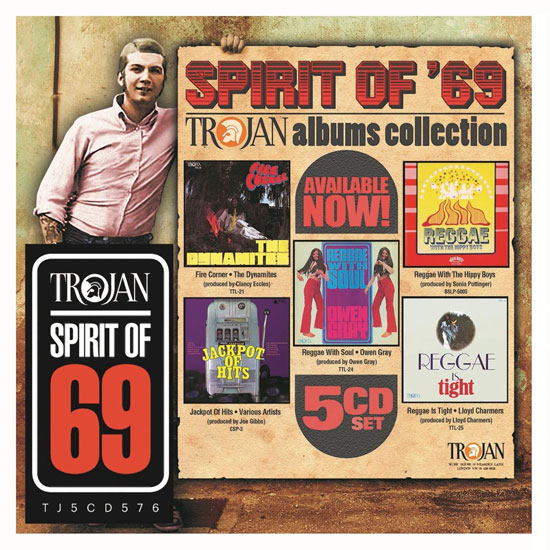 50 years on and the Spirit of '69 albums collection by Trojan Records is celebrating that original era for a budget price.
This is one of two releases celebrating that time. You could go for budget Do The Reggae set if you want to celebrate the original skinhead reggae sound. Or you can go for the bigger set here, the Spirit Of 69 Albums Collection.
In 1969 reggae and the skinhead look hit the big time in the UK, with skinheads instrumental in propelling the music from Jamaica into the British charts. The hits have since provided the focus for numerous compilations, but the lesser known records have been largely overlooked.
This CD set helps attempts to put things straight by comprising faithful reproductions of five of the most collectable Trojan albums from the latter half of '69. Also included in the package is a 16-page booklet featuring background information on each of the albums plus period imagery.
The set is available now for £15.87, which sounds like decent value to me. If you want the track listings, they are set out below.
Find out more about the CD set at the Amazon website
REGGAE IS TIGHT – LLOYD CHARMERS
Original UK release: Trojan, TTL-25
5 to 5
Follow This Sound
Golden Moon (aka Blue Moon)
Higher Heights
Psychedelic Reggae
Summer Face (aka Theme from 'A Summer Place')
Crimson and Clover
Rat Trap
Everybody Needs Love
Safari
Reggae Is Tight (aka Time Is Tight)
Stronger
JACKPOT OF HITS – VARIOUS ARTISTS
Original UK release: Amalgamated, CSP-3
Jackpot – The Pioneers
Feel Good – The Mellotones
Give Me a Little Loving – The Pioneers
No Dope Me Pony – The Pioneers
Secret Weapon – Ansel Collins
El Casino Royale – Lyn Taitt & The Jets
What Mama Na Want She Get – Stranger Cole
Catch the Beat – The Pioneers
Good Time Rock – Hugh Malcolm
Just Like a River – Stranger & Gladdy
Hurry Come Up – The Crashers
Train To Soulsville – Cool Sticky
REGGAE WITH SOUL – OWEN GRAY
Original UK release: Trojan, TTL-24
Too Experienced
You Call My Name
Mr. Sun
Seven Lonely Days
There'll Be No Ending
Any Day Now (My Wild Beautiful Bird)
I Can't Stop Loving You
I've Got to Get Back
Say You Will
I Know She Loves Me
Do You Wanna Dance
I'm Gone
REGGAE WITH THE HIPPY BOYS – THE HIPPY BOYS
Original UK release: High Note, BSLP-5005
Nurse J'Kel
This Is It
Mad Movie
Capo
Foot Work
Seventh Heaven
Moon Walk
Challenge
Reggae Pressure (aka Spicy)
Wondering
FIRE CORNER – THE DYNAMITES
Original UK release: Trojan, TTL-21
Eternally
Sam-Fie
I Did It
This Is The Night
One Way Street
John Public (aka Tom Hark)
Skokiaan
Soul Language
Say What You Say
Vigorton Two
Next Corner
Fire Corner