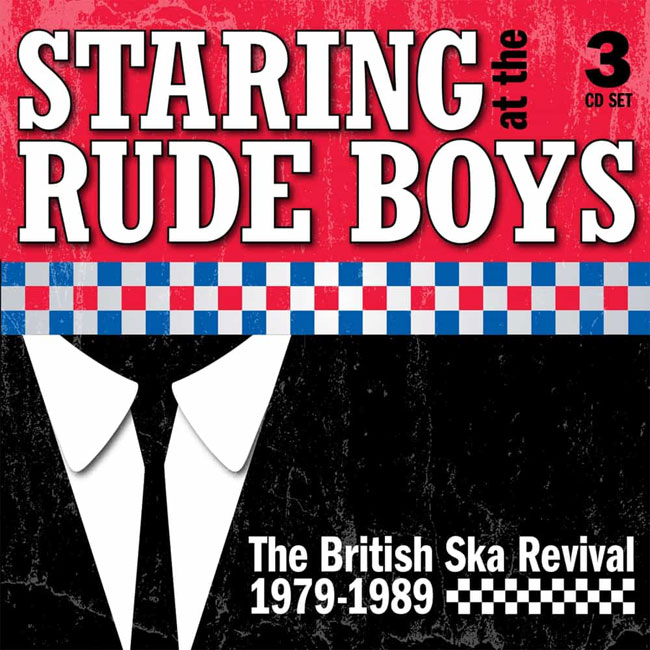 This might well be of interest. The upcoming Staring At The Rude Boys: British Ska Revival CD boxset.
It's a Cherry Red boxset and as such, always worth checking out. They rarely do poor quality boxes. In this case, we are looking at a three-CD, 69-track box that covers the UK Ska Revival between the years of 1979 and 1989. With such a wide pull, this is obviously more diverse than your average Two Tone collection.
Of course, it does feature tracks from the 'big five' of The Specials, Madness, The Beat, Selecter and Bad Manners. But that's balanced out with 'one-off' highly collectable rarities from the likes of The RB's, The Thrillers and The Gangsters and much more in-between.
You will also find hit singles from the likes of The Lambrettas ('Poison Ivy') and The Piranhas ('Tom Hark'), 'comeback' recordings from original Ska pioneers Laurel Aitken, Rico and Desmond Dekker, 'novelty' 45's from the likes of The Burtons, The Charlie Parkas and Max Headroom and 'New Ska' sounds from late 80's outfits such as The Deltones, The Hotknives and Maroon Town. Like I said, plenty of diversity here.
Bands featuring people who made their mark in other more known acts too. Tears For Fears evolved from Graduate, The Mission's Wayne Hussey debuted in the Ded Byrds, Fine Young Cannibals' Roland Gift can be found fronting The Akrylykz and the Reluctant Stereotypes laid the foundations for King.
You can see the full tracklisting below, with the box also including a near 10,000-word sleevenotes with info on each track in the fully-illustrated 44-page booklet.
Just on pre-order now, the box set is out on 19th February 2021 but can be pre-ordered now, with the price at £20.99.
Find out more about the box set at the Amazon website
Tracklisting:
DISC ONE:
1. LITTLE BITCH – The Specials
2. BED & BREAKFAST MAN – Madness
3. GIVE IT TO ME NOW – The Merton Parkas
4. RICH AND NASTY – Ded Byrds
5. SKA FEVER – Judge Dread
6. BIG EXPENSE, SMALL INCOME – The Tigers
7. BALLAD OF ROBIN HOOD – The Charlie Parkas
8. ROUGH RIDER – DiVersion
9. POISON IVY – The Lambrettas
10. STREET FEELING – The Selecter
11. PHOENIX CITY – Rockers Express
12. McARTHUR PARK – The Burtons
13. ELVIS SHOULD PLAY SKA – Graduate
14. DON'T PANIC – Max Headroom & The Car "Parks"
15. INNER LONDON VIOLENCE – Bad Manners
16. PLAY MY RECORD – Arthur Kay's Originals
17. SPYDERMAN – The Akrylykz
18. PIED PIPER – Red Roll-On
19. MODERN LOVE – Indicators
20. WE ARE THE GANGSTERS – The Gangsters
21. SHOOTING – The Thrillers
22. LOFASKA – Reluctant Stereotypes
23. LET'S DO ROCK STEADY – The Bodysnatchers
24. SOUTH COAST RUMBLE – The South Coast Ska Stars
DISC TWO:
1. BIG FAT MAN – Laurel Aitken
2. WHINE & GRINE / STAND DOWN MARGARET – The Beat
3. I WAS WRONG – The Rimshots
4. ACCIDENT – The Viewers
5. STOP THAT BOY – Wide Boys
6. SEA CRUISE – Rico
7. TOM HARK – The Piranhas
8. RUDE BOY TRAIN – Desmond Dekker
9. BLUE LAGOON – The Ammonites
10. PARTY GIRL – The Skavengers
11. HOUSEWIVES CHOICE – MP's
12. JEANIE – The Resistors
13. BREAKING UP NEW GROUND – The Parrots
14. THE ODD MAN OUT – Teenage Filmstars
15. ONE MORE FOR THE ROAD – The A.T.'s
16. CHARACTER CHANGE – Machine
17. PINK SLIPPERS – The AK Band
18. ARE YOU WIV – Tich Turner's Escalator
19. NEVER GONNA LOSE ME – Sax Maniax
20. NO ONE LIKE YOU – The Originals
21. DREAD IN MY BED – The Odds
22. EXPLAIN – The RB's
DISC THREE:
1. 2-6-5-8-0 – Kim Wilde
2. MY FAVOURITE BAND – The Lemons
3. REGGAE ON THE RADIO – The Papers
4. 21 GUNS – 21 Guns
5. DAMBUSTERS MARCH – JJ Allstars
6. SKA'D FOR LIFE – The Ska-Dows
7. MOUTH AND TROUSERS – Splodge
8. PLASTIC GANGSTER (I COULD BE SO GOOD FOR YOU) – Plastic Gangsters
9. OH – Case
10. MAD ABOUT YOU – Laurel Aitken & The Potato 5
11. ALL OR NOTHING GIRL – The Larks
12. FOREST HILL SKA – Forest Hill Billies
13. SHEILA – Burial
14. COME INTO MY PARLOUR – Skin Deep
15. SKINHEAD LOVE AFFAIR – Busters Allstars
16. KING HAMMOND SHUFFLE – King Hammond
17. SKADANSK – Mark Foggo's Skasters
18. DAVE AND MARY – The Hotknives
19. POUND TO THE DOLLAR – Maroon Town
20. THE UNDERTAKER – The Loafers
21. STAY WHERE YOU ARE – The Deltones
22. BLIND DATE – The Riffs
23. RUKUMBINE – Ska Boom
24. RUDE BOY SHUFFLE – Rude Boys