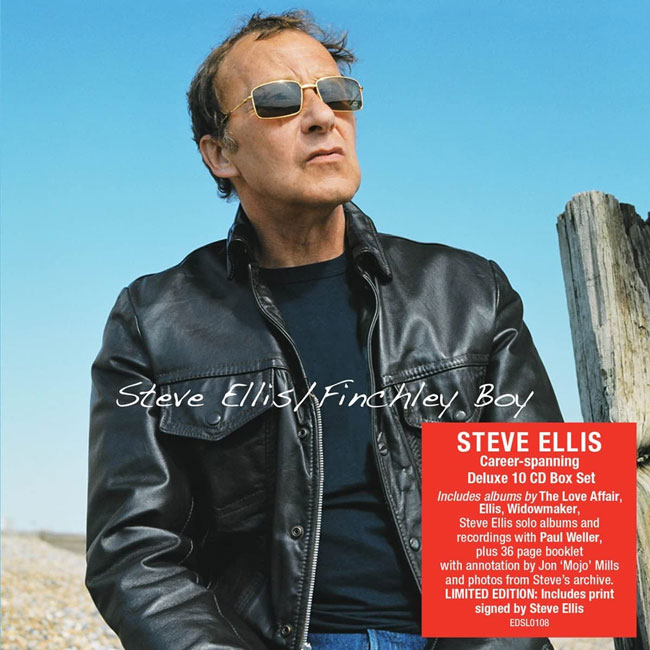 Note that I independently write and research everything in this article. But it may contain affiliate links.
About time a career retrospective landed. And the Steve Ellis – Finchley Boy 10-disc box set doesn't do things in half measures.
Also, as a bonus, you can pre-order a signed edition too and there's a new Paul Weller collaboration here as well. More of that in a moment. But first, let's look at the box overall.
Finchley Boy is pretty much everything Steve Elis has produced over the decades and here, over 10 CDs. A career-spanning set from one of the UK's most underrated singers.
What you get is a mix of classic, rare and new material, with the set encompassing his work with The Love Affair, Ellis, Widowmaker, as well as the Steve Ellis solo albums. Yes, the recordings with Paul Weller are here, including a brand-new track written by Paul and Steve.
Also included is a signed print (that's a limited edition so make sure you pre-order to get it) plus a 36-page booklet with the full story of Steve's career, written by Jon 'Mojo' Mills, editor of Shindig! Magazine, and based on extensive recent interviews with Steve himself. The booklet also features photos from Steve's own archive.
So a total of 175 tracks (good luck getting through that in one sitting), including The Love Affair's 'Everlasting Love' and four more Top 20 hits, Ellis' 'El Doomo' and 'Good To Be Alive', Widowmaker's 'When I Met You', the 2018 solo album Boom! Bang! Twang! produced by Paul Weller, and the brand-new track 'Just To Simplify' co-written and produced by Paul Weller.
All The Love Affair's recordings with Steve for CBS are contained on CD1 of this collection. Steve left in December 1969 to pursue a solo career and made the recordings on CD2 with the Love Affair's arranger Keith Mansfield, and some with the band Hookfoot. Only a couple of singles (including a cover of Jimmy Webb's 'Evie') were released at the time. Keith Mansfield also enlisted Steve to sing the vocals on his soundtrack for the film version of Joe Orton's 'Loot'(CD3). The theme to that movie is an absolute classic that everyone should own.
Steve next formed the band, Ellis, with Zoot Money in 1972. That year they released the Roger Daltrey-produced album Riding On The Crest Of A Slump, which was followed in 1973 by Why Not (both feature on CD4). Next up was the band Widowmaker, formed in 1976 and that same year they released a self-titled album (CD5).
1977 saw the release of the solo album, The Last Angry Man (CD6). Steve took a break from recording before returning with Basement Days in 1983 (CD7). Best Of Days (CD8) was released in 2008 and features an acoustic live version of 'Everlasting Love' with Paul Weller. Ten Commitments came along in 2011, and this CD (CD9) also features Steve's performances of three Small Faces songs at a Steve Marriott memorial concert.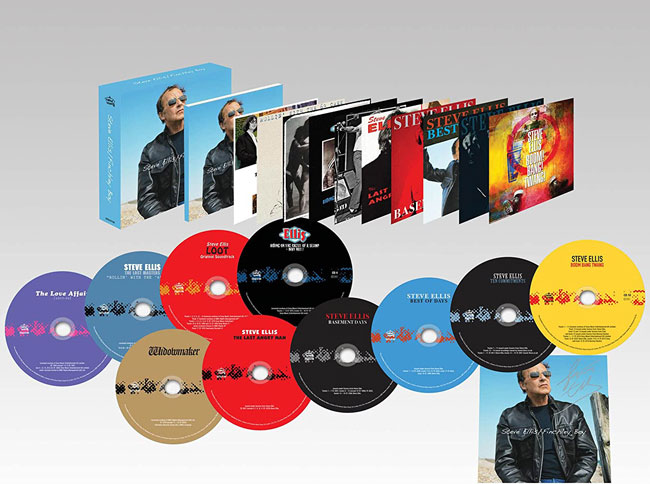 The last CD features Steve's most recent album Boom! Bang! Twang!, co-produced in 2018 by Paul Weller, and featuring two co-writes by Steve and Paul. Also featured is the aforementioned new recording with Paul Weller. The CDs also include bonus tracks, featuring many of Steve's collaborations.
You can get the full rundown of what is included below. If you want to pre-order, that's Amazon-only if you want the signed print (and you probably do). The box set is £44.99 and lands on 27th May.
Find out more at the Amazon website
Tracks:
CD 1:
THE LOVE AFFAIR [1967-69]
1. Everlasting Love
2. Rainbow Valley
3. A Day Without Love
4. One Road
5. Bringing On Back The Good Times
6. Baby I Know
7. Build On Love
8. Handbags And Gladrags
9. Please Stay
10. Could I Be Dreaming
11. Someone Like Me
12. Gone Are The Songs Of Yesterday
13. First Cut Is The Deepest
14. Another Day
15. Once Upon A Season
16. So Sorry
17. Tale Of Two Bitters
18. Hush
19. I'm Happy
20. Let Me Know
21. The Tree
22. Accept Me For What I Am
23. Tobacco Road
24. 60 Minutes (Of Your Love)
CD 2:
STEVE ELLIS "ROLLIN' WITH THE '69 CREW" [1969-70]
1. Good Time Livin'
2. Something's Gotten Hold Of My Heart
3. It's A Man's Man's Man's World
4. Bread And Wine
5. Lean On Me
6. Rainy Night In Georgia
7. Holly Holy
8. Sympathy
9. Evie
10. Take Your Love
11. Charley Patton Rides The Delta
12. I Don't Know Why
13. Gimme Shelter
14. Fat Crow
15. Pisces Apple Lady
16. Way Up On A Hill
17. I Got A Feelin'
18. Can't Stop Worrying Can't Stop Loving
19. Take Me To The Pilot
20. Have You Seen My Baby [aka Hold On]
21. Jingle Jangle Jasmine
22. Goody Goody Dancing Shoes
CD 3:
STEVE ELLIS "LOOT" ORIGINAL SOUNDTRACK [1970]
1. More, More, More
2. Loot's The Root
3. Hey, Hey, Hey
4. Where It's At
5. Stealth In The Night
6. Oh Fay!
7. We Nearly Were Lovers
8. Police Barricade
9. Mother's Waltz
10. The Undertaker Song
11. Eyeball Serenade
12. Loot's The Root
13. And More, More, More
THE LOVE AFFAIR: Bonus Tracks
14. Un Giorno Senza Amore (A Day Without Love)
15. Io Senza Te (Rainbow Valley)
16. Time Hasn't Changed Us
PETER BARDENS [Steve Ellis – vocals]
17. The Answer
CD 4:
ELLIS "RIDING ON THE CREST OF A SLUMP" [1972]
1. Good To Be Alive
2. El Doomo
3. You're The Only Reason
4. Tune For Brownie
5. Your Game
6. Three Times Corner
7. Morning Paper
8. Wish I Was Back Home
9. Angela
ELLIS "WHY NOT" [1973]
10. Goodbye Boredom
11. Opus 17¾
12. Future Passed
13. Loud And Lazy Love Songs
14. Open Road
15. All Before
16. Leaving In The Morning
17. Mighty Mystic Lady
18. We Need The Money Too
19. Gyupp
CD 5:
WIDOWMAKER "WIDOWMAKER" [1976]
1. Such A Shame
2. Pin A Rose On Me
3. On The Road
4. Straight Faced Fighter
5. Ain't Telling You Nothing
6. When I Met You
7. Leave The Kids Alone
8. Shine A Light On Me
9. Running Free
10. Got A Dream
BONUS TRACKS: Live at the Paris Theatre, London
11. Come On Up
12. Too Late
13. El Doomo
CD 6:
STEVE ELLIS "THE LAST ANGRY MAN" [1977]
1. Life User
2. Hear Your Woman
3. Hang On Joey
4. Rag And Bone
5. Everlasting Love
6. Blackmail
7. Wind And A Lady
8. Soothe Me
9. Why Do The Good Guys Die
10. The Last Angry Man
BONUS TRACK
11. Save All The Encores
CD 7:
STEVE ELLIS "BASEMENT DAYS" [1983]
1. El Doomo
2. Shark Shoes
3. I Lost My Feelings
4. She's Leaving
5. War Train
6. Hold On
7. Warm Love
UNRELEASED SINGLES
8. When A Man Loves A Woman
9. Breaking Down The Walls Of Heartache
10. Hot Lips
11. Hot Lips [demo]
12. Hot Lips [alternate mix]
STEVE ELLIS "BASEMENT DAYS 2" [1996]
13. Back In Your Arms [live, Steve Ellis' Love Affair]
14. Open Up Your Heart [demo]
15. Blue World [demo]
16. Dance With The Gypsies [demo]
17. Your Heart Is Safe [demo]
18. Ready For Love [demo]
19. Candy In His Pocket [demo]
CD 8:
STEVE ELLIS "BEST OF DAYS" [2008]
1. Everlasting Love [acoustic]
2. Brand New Start
3. As The Crow Flies
4. Step Inside
5. Requiem For A Tyrant
6. Nu Clear Blue
7. Little One
8. Modesty
9. Yellow Rose Of Texas
10. Turn To Stone
11. Heaven's Word
12. El Doomo
13. Best Of Days
14. Everlasting Love [live]
BONUS TRACKS
15. Indian Rope Man
16. I'm Alive
17. Some Kinda Fool
18. Step Inside My Love [dance mix]
CD 9:
STEVE ELLIS "TEN COMMITMENTS" [2011]
1. Don't Let Me Be The Only One
2. Healing Touch
3. Hit The Spot
4. Never Say Never
5. On The Way Home
6. Perfect Sunday
7. Please Please Me
8. Thank You Baby For Loving Me
9. War Train
10. We Got It
BONUS TRACK
11. War Train [Ashley Beedle remix]
THE MODS AND STEVE ELLIS
AT THE STEVE MARRIOTT MEMORIAL CONCERT [2001]
12. Understanding
13. Song Of A Baker
14. Afterglow (Of Your Love)
CD 10:
STEVE ELLIS "BOOM BANG TWANG" [2018]
1. Black Sheep Boy
2. Sitting in Limbo
3. Soul Trek (Holy Blue)
4. Tobacco Ash Sunday
5. Forever
6. I Forgot To Be Your Lover
7. Lonely No More
8. Don't Let The Sun Catch You Crying
9. Cry Me A River
10. Glory Bound
11. Oh Death
BONUS TRACK
12. Just To Simplify [2021 recording with Paul Weller]
STEVE ELLIS + COW
13. Up
14. Rise
NORMAN BEAKER BAND WITH STEVE ELLIS
15. Time And Tide
Love Modculture? If you enjoy what you read or have benefitted from it and want to
help with the ever-increasing costs of the site and newsletter
, you can always
buy me a coffee at Ko-Fi
. Every penny is helpful and appreciated.