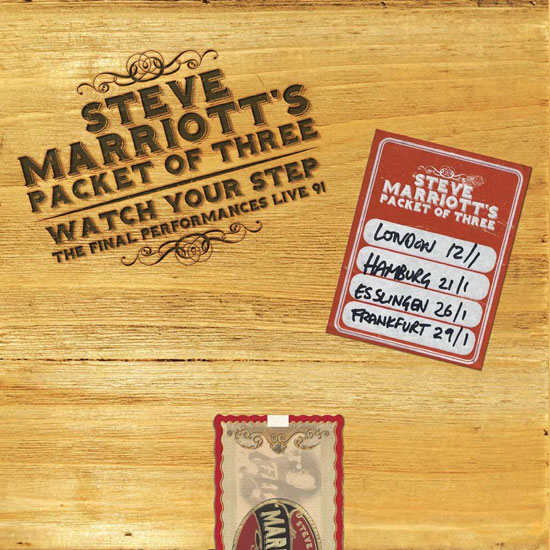 The last gigs of Steve Marriott are being issues as a four-CD box set, going by the name of Watch Your Step: Final Performances '91.
Cherry Red is behind the box set, bringing together the last ever performances of Marriott from 1991 with his band at the time, Packet Of Three. The gigs were:
The Half Moon, Putney, London – 12/01/91
Logo, Hamburg – 21/01/91
Dieselstrasse, Esslingen (Germany) – 26/01/91
Sinkkasten, Frankfurt – 29/01/91
The set also includes 'extensive' and 'revealing' sleeve notes detailing Steve's final years, his last recordings and his plans for future musical ventures. You will also find exclusive photos taken from those shows, personal shots of his later years, handwritten letters, lyric sheets and set lists.
As for the music, that's all listed below, a mix of classics, covers and later material.
The release date for this is 24th November 2017 and the pre-order price is £21.11.
Find out more at there Amazon website
Track List:
DISC ONE:
THE HALF MOON, PUTNEY, LONDON, ENGLAND – 12/01/91
1. MEMPHIS TENNESSEE (INSTRUMENTAL)
2. WATCH YOUR STEP
3. SOME KIND OF WONDERFUL
4. BIG TRAIN STOPS AT MEMPHIS
5. WATCHA GONNA DO ABOUT IT
6. TALKIN' 'BOUT YOU
7. COCKNEY RHYME / WHAT A SILLY SONG
8. ITCHYCOO PARK
9. MR. PITIFUL
10. HALLELUJAH I LOVE HER SO
11. FIVE LONG YEARS
12. ALL OR NOTHING
13. THIS OLD FOOL
14. NATURAL BORN BUGIE
DISC TWO:
LOGO, HAMBURG, GERMANY – 21/01/91
1. MEMPHIS TENNESSEE (INSTRUMENTAL)
2. WATCH YOUR STEP
3. SOME KIND OF WONDERFUL
4. FOOL FOR A PRETTY FACE
5. WATCHA GONNA DO ABOUT IT
6. TALKIN' 'BOUT YOU
7. COCKNEY RHYME / WHAT A SILLY SONG
8. ITCHYCOO PARK
9. MR. PITIFUL
10. HALLELUJAH I LOVE HER SO
11. FIVE LONG YEARS
12. ALL OR NOTHING
13. THIS OLD FOOL
14. BIG TRAIN STOPS AT MEMPHIS
15. BEFORE YOU ACCUSE ME
16. NATURAL BORN BUGIE
DISC THREE:
DIESELSTRASSE, ESSLINGEN, GERMANY – 26/01/91
1. MEMPHIS TENNESSEE (INSTRUMENTAL)
2. WATCH YOUR STEP
3. FOOL FOR A PRETTY FACE
4. WATCHA GONNA DO ABOUT IT
5. TALKIN' 'BOUT YOU
6. COCKNEY RHYME / WHAT A SILLY SONG
7. ITCHYCOO PARK
8. MR. PITIFUL
9. HALLELUJAH I LOVE HER SO
10. FIVE LONG YEARS
11. BIG TRAIN STOPS AT MEMPHIS
12. ALL OR NOTHING
13. THIS OLD FOOL
14. NATURAL BORN BUGIE
15. BEFORE YOU ACCUSE ME
DISC FOUR:
SINKKASTEN, FRANKFURT, GERMANY – 29/01/91
1. MEMPHIS TENNESSEE (INSTRUMENTAL)
2. WATCH YOUR STEP
3. SOME KIND OF WONDERFUL
4. BIG TRAIN STOPS AT MEMPHIS
5. WATCHA GONNA DO ABOUT IT
6. TALKIN' 'BOUT YOU
7. COCKNEY RHYME / WHAT A SILLY SONG
8. ITCHYCOO PARK
9. MR. PITIFUL
10. HALLELUJAH I LOVE HER SO
11. FIVE LONG YEARS
12. ALL OR NOTHING
13. THIS OLD FOOL
14. NATURAL BORN BUGIE
15. BEFORE YOU ACCUSE ME