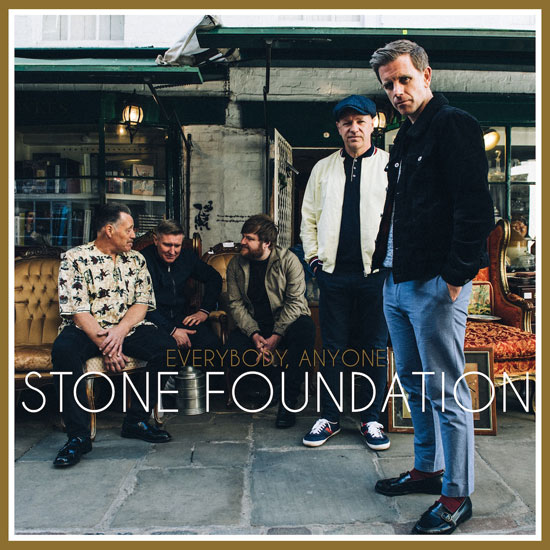 We talked to the band about their last album early in 2017. That has now been followed up by a new Stone Foundation album, going by the name of Everybody, Anyone.
It is released on 24th August on 100& Records, with 11 new songs and a sprinkling of guest musicians including Kathryn Williams, Steve White, Dr Robert, Mick Talbot, The Average White Band's Hamish Stuart and like the last album, Paul Weller, who provides guitar and backing vocals ob a couple of tracks.
The Midlands based band's 5th studio album was recorded at Paul Weller's Black Barn Studios in Surrey and produced by Stone Foundation founding members Neil Jones and Neil Sheasby and engineered by Charles Rees.
It is described as having a 'harder, heavier funk vibe' than the last one. According to Neil Sheasby: 'In recent years I've heard a lot of records with great grooves but there's no song, the message melodies were still key to the records creation. To me it sounds like a very cohesive collection of tunes, a body of work that hangs well as a complete album. The next natural step for Stone Foundation'.
Singer and guitarist Neil Jones adds: 'We wanted to make tunes that would unite people nomatter what their background or beliefs may be and also for the first time in a while explore topics closer to home that effect us all, such as family, loss and finding comfort in some of the darker times we all face. It was important we changed the sound and made it harder and heavier and ultimately funkier and to me these 11 tracks sound like 8 musicians maturing and developing as players (with a little help from some good friends)'.
The first track to be released from the album will be the soulful epic 'Standing On The Top', available now and clocking in at over 7 minutes. A video of the track has been done with filmmaker Joe Harvey, which you can see below.
Also below is the track listing and if you want to pre-order the album, you can do that now too.
Pre-order Stone Foundation Everybody, Anyone on vinyl
Pre-order Stone Foundation Everybody, Anyone on CD+DVD Deluxe Edition
Everybody, Anyone track listing:
1) Sweet Forgiveness
2) Standing On The Top
3) Don't Walk Away (with Kathryn Williams)
4) Give The Man A Hand
5) Next Time Around
6) Carry The News
7) Only You Can (with Hamish Stuart)
8) Heavenly Father
9) Belief
10) Please Be Upstanding
11) Rise Above It
Tour dates are…
24th Oct – Hull – Früit
25th Oct – Manchester – The Ruby Lounge
26th Oct – Coventry – Empire
27th Oct – Leeds – Riley Theatre
1st Nov – Nottingham – Glee Club
2nd Nov – London – Islington Assembly Hall
9th Nov – Bristol – Thekla
15th Nov – Glasgow – Òran Mór
16th Nov – Newcastle – Riverside
17th Nov – Blackburn – King George's Hall
22nd Nov – Brighton – Komedia
23rd Nov – Norwich – Waterfront