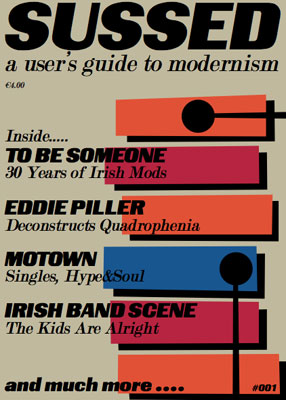 Fanzines are few and far between these days, although calling Sussed a fanzine might be doing it a disservice.
It looks to be a more professional affair than that, although it does have the 'fanzine' thing at its heart. Issue one is out now, with a new issue expected every couple of months. This first issue is music driven, but that's not always going to be the case – issue two is said to be more style-led.
Anyway, issue one has content including a feature on the 'To Be Someone' (mods in Ireland) book, some new bands and a piece on The Urges, street culture over the years, a piece on jackets, some 45 picks, an article on Gillian (aka Cock of the Walk) tailoring, a Motown retrospective and a piece on Quadrophenia by Eddie Piller – although that seems to be the same article we have hosted on this site for some years.
Anyway, if that appeals to you, copies are available to buy via eBay, priced at 4 Euros, which is £3.32, along with postage.
Find out more at the eBay website