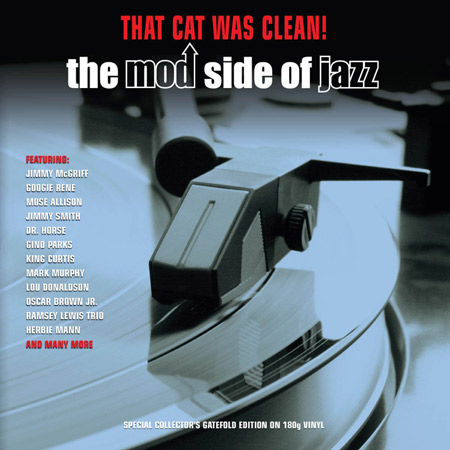 We featured the CD version back in November, but now you can order That Cat Was Clean! The Mod Side Of Jazz on heavyweight vinyl. But it isn't as cheap as the CD, obviously.
That's perhaps because the CD is incredibly cheap at under a fiver, especially in light of it being a strong collection from the genre, featuring the likes of Jimmy Smith, Ray Charles, Booker T, Mose Allison, Phil Upchurch Combo, Ramsey Lewis and more. Definitely a good 'intro' selection.
If you prefer the records, then you can get what seems to be a shrunk down section on 180g vinyl. This is a two-record set featuring 22 cuts (compared to the CD's 40 selections), with the track listing below.
You can order it now, with a release date of 19th January 2015. The price is down as £18.31.
Find out more at the Amazon website
Disc: 1
1. Jack, That Cat Was Clean – Dr. Horse (3:33)
2. I Got A Woman – Booker T. & The M.G.'s (3:33)
3. You Can't Sit Down (Parts 1 & 2) – Phil Upchurch Combo (4:14)
4. Baby, Please Don't Go – Mose Allison (2:34)
5. Nice 'N' Greasy – Lou Donaldson (5:27)
6. Sixteen Tons – Oscar Brown, Jr. (2:20)
7. One Mint Julep – Ray Charles (3:10)
8. One Note Samba – Herbie Mann, João Gilberto & Antonio Carlos Jobim (3:22)
9. Y'all (Feat. Willis Jackson) – Johnny 'Hammond' Smith (7:44)
10. Cleo's Mood – Junior Walker & The All Stars (2:42)
11. Black Eye Peas – Ramsey Lewis Trio (2:45)
Disc: 2
1. Fire – Gino Parks (2:48)
2. Sack O' Woe – The Mar-Keys (2:31)
3. Love – Mark Murphy (2:42)
4. Burnt Biscuits – The Triumphs (2:01)
5. The Blues Message (Feat. Curtis Amy) – Paul Bryant (8:41)
6. The Slide (Part 1) – Googie Rene (3:07)
7. Back At The Chicken Shack – Jimmy Smith (8:03)
8. Right Now – Herbie Mann (3:15)
9. Mood Indigo – Nina Simone (4:07)
10. Fever – King Curtis (2:47)
11. That's The Way I Feel – Jimmy McGriff (2:21)
Save