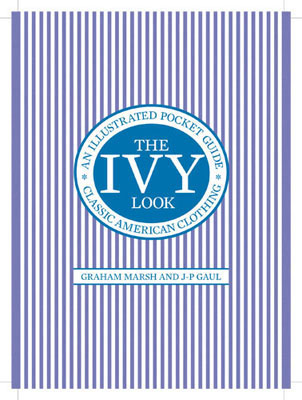 Note that I independently write and research everything in this article. But it may contain affiliate links.
Looking for the lowdown on ivy? The Ivy Look is the obvious place to start.
Do a search on the net for Ivy League and you'll encounter a significant number of discussion forums and obsessives. Unfortunately, like just about everything on the web, if you gather together a group of people with a serious interest in a subject, it soon moves from talking about something into talking it into the ground. Trust me, I've been there on everything from mods to the continuing misfortunes of Bolton Wanderers.
So if you happen to be inquisitive about Ivy League styling, don't make the mistake of thinking the answers are just a web search away. Unless that search takes you to an online book store to secure a copy of The Ivy Look by Graham Marsh and JP Gall.
Now I'm pretty sure both Mr Marsh and Mr Gall aren't averse to talking about the appropriate rise of trousers, the hang of a jacket or the width of a lapel. The former has been a devotee of the look since mixing with stylish American illustrators in the early 60s, the latter a refugee from the 80s mod scene, inspired by Blue Note sleeves, vintage Esquire and the knowledge of Mr John Simons, a man who has kept ivy's torch burning for the best part of 50 years.
But they're no fools either. As evangelists for the look, the pair have reined in the desire to preach to the converted, instead producing a fascinating introductory guide to the look, its history and its influence throughout the years and around the world.
I'll be honest, despite once paying a small fortune to acquire copies Ivy Illustrated from Japan, I'm still more of a fan than an expert on ivy. Which is why I'm reviewing it ahead of long-term devotees. And for me, the book is pitched just right. Far from over-simplistic and with enough detail to give you a decent grounding in the subject. If you want to take it on from here, that's up to you, your bank balance and your personal eye for style. After all, this is not the complete guide, it's a complete introduction.
Within The Ivy Look, you'll find specific sections for shoes, shirts, suits and jackets, trousers, hats, even seasonal wear. On top of that, the authors take a detour into Ivy's influence on the original mod scene, its influence on European culture, the continuing obsession with the look in Japan, even how it permeated into the arts and architecture, the world of advertising and of course, music. Fan of jazz or not, after reading this, I suspect you'll be digging out some of those late 50s/early 60s album sleeves, if only to have hanging round the house to impress.
A section devoted to the king of cool, Steve McQueen, is the cherry on the cake and if you need some pointers for places to shop…well, they are in here too. You'll even find links to those forums where the obsessives hang out.
But what this book does particularly well (and where many 'style' books fail), is to understand the importance of the image over the spoken/written word. Yes, there is a solid commentary throughout, but often it's to put meat on the bones of the superb selection of images packed into the 206 pages.
Product shots, vintage advertisements, classic labels, hipsters clad head to to in ivy gear, those classic album sleeves, noted faces like Lee Marvin, Steve McQueen, Paul Newman, Anthony Perkins, the Kennedys, Bill Evans and Dustin Hoffman (in the Graduate), not to mention some custom illustrations to emphasise particular garments and styles. All here, all showing the look 'in action' if you like. That's what you want with a book devoted to clothing.
Indeed, it's a hard book to criticise, but I'm going to offer up a couple of minor ones. First, while the chunky format of the book works as something to slip into a (hefty) pocket or bag, you do, at times, wish some of those images were bigger, especially as the book is pitched as a 'pictorial celebration'. Personal choice  maybe, but when you see some of those classic ads and 'people' shots, you'll know what I mean.
In addition, I was left wanting just a little bit more from some of the sub-sections in the book. While the style sections tended to offer good, rounded introductions, sections like Mods and Continental Drift came across as being touched on rather than being fully covered. The peril of trying to pack it all into one volume I suspect.
It doesn't really affect my opinion of the book though. If you are of a modernist persuasion, have a love of the classic, need some sartorial tips or just want to know the heritage of ivy brands that are still doing swift business today amongst the current crop of hipsters (Ralph Lauren, Levi's Converse, Clark's, Lacoste, Jack Purcell to name just some), this book should be a nailed-on (or should that be buttoned-down?) purchase.
As I said earlier, The Ivy Look isn't some kind of defining text, but it is an excellent guide to set you on a journey. On the evidence here, it's a journey I would definitely recommend, even if you don't fancy going all the way.
Find out more about the book at the Amazon website
Save
Love Modculture? If you enjoy what you read or have benefitted from it and want to
help with the ever-increasing costs of the site and newsletter
, you can always
buy me a coffee at Ko-Fi
. Every penny is helpful and appreciated.