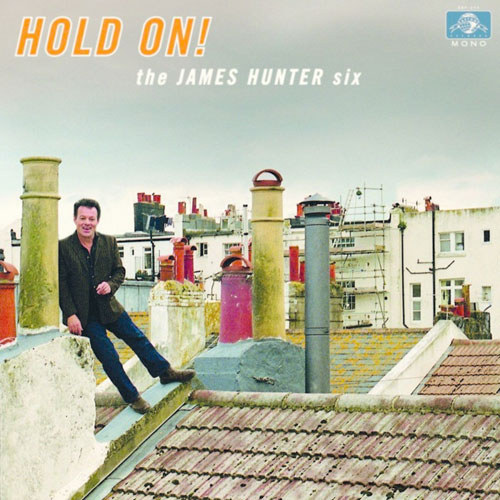 Note that I independently write and research everything in this article. But it may contain affiliate links.
The release information from Daptone states that this is James Hunter's fourth album. It's actually his sixth by my reckoning and with that comes the danger that the more a great artist produces, the more they might struggle to keep up the standard. Thankfully, 'Hold On!' launches that theory out of the window.
The signing to Daptone and the production of Bosco Mann (Gabriel Roth) promised great things – and they're delivered in spades here. From the off, there's an evident excitement in this album. The opener "If That Don't Tell You" isn't shy in communicating that changes are afoot: a really spacious sound, upfront shimmering organ, stabbing and supporting brass, vibes – and drummer Jonathan Lee performs as if he's being whipped.  In fact, all of the band are playing out of their skin and although they've always generated a powerful and exciting sound, there's a real sense of joy here – with James starting sincerely, then taking it home with manic ad-libs that only he can do – and he's never done it better.
'This Is Where We Came In' is a showcase of the contrasts that pepper this album. After the 'game show' intro into a bossa type groove, it mixes the rough with the smooth with uncharacteristically wholesome and intricate, backing harmonies, smoky brass, and light piano all under a grainy but sweet as you like vocal. The track has real depth and – at over 4 minutes – they know they've got something special here, so they're not rushing off anywhere.
Most fans of the JH6 had got wind of (Baby) Hold On from pre-release clips.  The frenzied, unrelenting brass has a real stateside jazz feel – and provokes an imagined film opening with credits flashing onto a 1963-ish bustling Manhattan or  swarming Soho. A worthy title track.
The vocals – lead and backing – steal the show on 'Something's Calling' and 'A Truer Heart', although the latter has a contender in a lovely harmonica solo. I haven't heard a harp in these parts since Howlin' Wilf's last gig in the 90's. Not sure if this is him playing – the style is very different to the Vee Jays days – more 'My Rifle, Pony & Me' than 'Mellow Down Easy' – but a welcome return.
'Free Your Mind' sees the band on fire.  Cocky and strutting, with dramatic organ stabs and a picky aggressive  guitar solo in between heavy ,driving soul -infused choruses. Real ear-worm stuff. My favourite part though, a breakdown with Jason banging out a simple bass line over the drums – this just lets air in to build to a blazing exit – all members playing for their lives.
The light, bouncing opening to 'Light Of My Life' had me thinking of Pat Boone, Jerry Keller and other clean and 'decent' fellas of that era. James takes the lead – and then goes the extra mile with double tracking himself for the backing vocals. With an organ break that sounds like Jackie Mittoo has been parachuted in, none of this should work together – but it just does. A superb track.
'Stranded' is a balls-out soul stormer. Vibes, Motown-esque drums and handclaps tempt Northern Soul comparisons – but this is just a great 60's soul inspired tune – and is bound to be one on the list of requests for a vinyl release.
'Satchel Foot' is a rare instrumental that has all the band earning their money. A Link Wray-style guitar sound gives a 50's foundation, 'til the honking baritone, Hammond and then beautiful tenor solo drag it a few years north, into the 'Mod Jazz' years.
The album closes with 'In The Dark'. Subdued, with brushes, effortless guitar and barely-there organ. This sounds like a re-working of 'Tell Her From Me' – an early track from the Kick it Around album. As one of the best ever JH tracks to these ears, it can't be re-worked enough. The imperfect lyrical phrasing here just adds to the after-hours club feel of the track and it's a fitting nightcap after a raucous session.
As stated above, for fans of James Hunter this album was anticipated with some uncertainty. The standard has been consistently high – in my opinion only slipping slightly with 'People Gonna Talk' – and the promise of new things with Daptone wasn't one without risks.  For an artist with such a distinctive sound and with reference points in quite a specific era, it's not hard to envisage old ground getting re-trodden. However, the nervous and cynical can now relax. This is a triumph for the James Hunter Six, Daptone and Gabriel Roth.
In my collection, an artist's most 'accomplished' work is rarely my favourite of their output. 'Hold On!' is likely to become one of those rare exceptions.  It's hard to identify what specifically makes this such a landmark album for the JH6 – but perhaps that  is the answer – it's less about the specific details with reference to era and style and more about playing what just feels right. To the listener, it seems that some rules have been relaxed here – and this permission to explore has enabled the band to come back with material that is full of contradictions. Again, another risk – but one that has produced genuinely exciting conflicts: how can they sound more relaxed but more energetic? How can 'looseness' feel tighter? How can drama sound so enjoyable?
Jackie Wilson, Ray Charles and Sam Cooke comparisons will keep coming – but James and the band are now so far beyond this, they're untouchable. They've earned their own patch – and they sound over the moon to be there.
Reviewed by Bill Sullivan
Find out more about the album at the Amazon website
Love Modculture? If you enjoy what you read or have benefitted from it and want to
help with the ever-increasing costs of the site and newsletter
, you can always
buy me a coffee at Ko-Fi
. Every penny is helpful and appreciated.