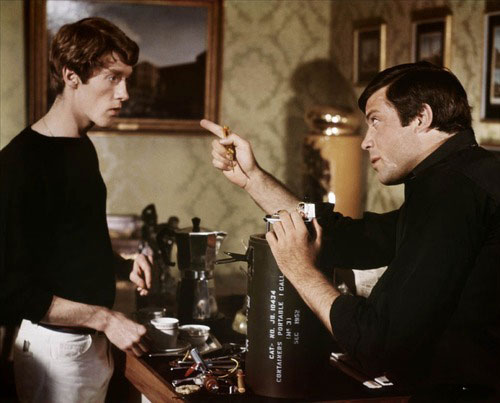 Note that I independently write and research everything in this article. But it may contain affiliate links.
The 1960s cult classic got an airing at the NFT recently, complete with director Michael Winner. The Scenester went along.
Sprinting out of my office and arriving at the South Bank via London's much derided tube system, I have to admit the spring in my step was less to do with the excitement at seeing a lost gem from my favourite decade, than simple nostalgia for a childhood visit to my local flea pit to see The Jokers. Scenester may be giving away a little too much personal info here, but I can recall seeing this one at my local Odeon at an early age, but never since, and my nostalgic feelings were tempered with a suspicion that I would be disappointed at the result.
I can report that although The Jokers isn't exactly the rip-roaring, dolly bird-packed, swinging 60s comic caper I seem to remember it as, it is as good a way as any to spend 90 minutes that would otherwise be wasted on some recent Hollywood mediocrity, and see some familiar faces and cool London locations while you're doing it.
Regular readers will probably have guessed by now that this evening's entertainment came courtesy of Will and Vic Flipside, of the NFT, those devotees of all things cult, retro and downright bizarre in the world of film, and whereas this one can't be hailed as a genuine classic of that magical decade, there is a lot to like about it. If I tell you it's about a pair of brothers who plot to steal the Crown Jewels, intending to return them later, as a grand gesture of youthful defiance, then I shouldn't need to trouble you much further in that respect. The stars are two of the most enduringly popular actors this country has ever produced; the gargantuan talent that was Oliver Reed (RIP) and the youthful, energetic Michael Crawford, currently undoubted King of the musicals. The sibling rivalry, and indeed the film itself is played for laughs, and the audacity of director Michael Winner (I'm coming to him) of casting two such polar opposites as brothers is one of the many comic devices he uses. Our two anti-heroes, bored with their upper-middle class lives, in a world that was still a long way from taking the young seriously, come up with an idea that will get them on the front page of every newspaper in the land. Their regular lives of attending parties filled of debs and twits are obviously not nearly as exciting as they would like, and the largely upper crust characters they encounter in normal life provide plenty of work for such acting stalwarts as Edward Fox and Peter Graves.
To Scenester's eyes, the caper was very much secondary to the fun to be had spotting London landmarks in the 60s, and the sheer number of tourist-friendly shots of the Tower of London, New Scotland Yard, Whitehall et al, suggests an American sale was the ultimate aim of the film. Mme. Scenester and our friend Miss C., I am sure, enjoyed spotting Lyons Cafe (mid-terrace, not a Corner House), the ABC Cafe and Luigi's even more than the costumes, which were mostly the conservative end of 'mod' clothes.
I doubt it if I would be spoiling the plot if I were to tell you that our bored young posh boys end up in jail, although their chances of acquittal are high, they think, given that they had no intention of keeping the Crown Jewels, but to return them, highlighting security concerns as their excuse for stealing them in the first place.
The capacity crowd at NFT1 were also treated (drawn in in the first place?) to an appearance by the director of this slice of 60s silliness, the phenomenally successful Michael Winner. Vic & Will, clearly in their element, coaxed some stories out of Michael, and provided a brief run-down of his career, which ranged from 'cheapies' to its staggering height, the still well- known Death Wish films. Michael fielded many questions from the floor, with whip-fast responses to all, recalling his early days hustling for small amounts of money to make his films, to long periods of underuse and unemployment. He even provided advice to one young aspiring film maker, urging relentless hard work above all things as a key to success. For someone who appears to have found a secondary career as food critic, advertising figure and professional insult-mill, his memories of his lead actors were surprisingly fond and positive. A fervent admirer, as well as employer of the late Oliver Reed, Michael regaled us with his stories of Oliver's gentleness, and a truly hilarious tale of how Burt Reynolds nearly killed him for have the bare effrontery to direct him in a western!
I came away with a higher opinion of Michael Winner than I had before, and I also learned that sometimes your childhood favourites are so for a reason. No matter; see the Jokers if it turns up on TV, (or maybe DVD?) and just enjoy this amusing time capsule for what it is.
Love Modculture? If you enjoy what you read or have benefitted from it and want to
help with the ever-increasing costs of the site and newsletter
, you can always
buy me a coffee at Ko-Fi
. Every penny is helpful and appreciated.