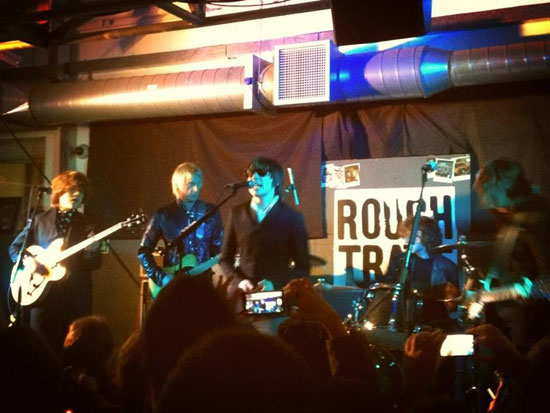 Note that I independently write and research everything in this article. But it may contain affiliate links.
A recent broadsheet article (in The Guardian specifically) claims mod bands today aren't very good. But do they actually exist? Or is it a case of mods finding bands that suit their musical tastes?
Seems an odd thing for The Guardian to take on, but the state of the mod band was just what was in their sights this week. Apparently, there's a new breed of mods, but the bands catering for them are a bit rubbish. That was the general gist. But what actually is a 'mod band'?
The mod scene has never been completely band-driven in its history. In the '60s, there were plenty of bands, but bands that filled a gap in the market, often playing their own take on soul 45s in cellar bars. Obviously they appealed to mods. On top of that, there were bands made up of mods, which was hardly a surprise in the early to mod-60s. But ultimately, the likes of The Action and The Small Faces were still bands – great bands that were taken up by mods on their merits.
Of course, The Who were famously styled as a mod band and Townshend himself was always a self-confessed mod. However, they had something else on their side that took them much further than a haircut and a pop art t-shirt. They had ability, talent and dedication, as well as the foresight to see beyond the mod phenomena. That's why they became one of the biggest bands in the world.
Mod in the '60s was driven by clothing, competition, club sounds and cool. Bands were a part of it, but on the sidelines, rather than at the centre of a scene.
Of course, the 1979 revival was a different thing altogether. Bands drove that scene's growth from niche to national, with that 'mod revival' sound being a hybrid of '60s influences mixed with the recent (at the time) influence of punk. Gigs were a focal point of the scene and some of those early bands (Secret Affair and The Chords most notably for me) became big names for a relatively short time, Some lasting even longer.
The Jam lasted even longer than that, but let's be honest, they were never a band focused purely on the mod scene. In fact, as the the band's success grew, Weller seemed more keen on making a break from the parkas and patches, shifting his style to something more sophisticated and Parisian.
But the mod scene moved on as the dedicated dug deeper – rare soul and beat, hip gear and that competitive edge from the 1960s grew in influence. Over time, the revival bands seemed part of a different scene (which is still the case for me), especially as the 1980s progressed and the 1990s kicked in. Bands that appealed to mods were still around (think The Prisoners for one great example), but again they never subscribed to the 'mod band' thing. Makin' Time were another, who perhaps did. Either way, mods found them. See also the '60s revivalists you'll find on the likes of the Children of Nuggets box set.
Ironically, the mod scene's next shot in the arm, with the Britpop years, should have signalled a return to bands being front and centre. But the club's that followed in its wake (and to be fair, appeared prior to it) seemed to subscribe to the '60s ethos or rare grooves and hip clobber. Mod was back to looking good in a club, although a good few took in a few gigs too and one of two overtly mod bands did make a mark – The Clique's debut album still stands up today as an excellent piece of work.
But all too often, mods bought music by bands and watched bands who were more on the edge. The Acid Jazz label (unsurprisingly) was very good at releasing music in this area.
The likes of Mother Earth and Cordurory had mod appeal without sticking a target on the sleeve. Many Britpop bands tinkered round the edges of mod (Blur, Charlatans and later Oasis to name the obvious examples), other bands created a hybrid sound of soul, funk, pop and jazz that appealed to a mod crowd increasingly diverse in its musical tastes – the likes of Portishead, Massive Attack and Saint Etienne, not to mention a plethora of '60s-inspired indie janglers and just possibly (albeit to a much lesser extent), a bit of hip hop would be found on some mods' music shelves and in their gig ticket collections.
That diversity still remains today. Mods tend to find bands that appeal to their music tastes, whether that is beat, psych, pop, soul, reggae or funk-inspired. Which is why you get some mods loving the sounds of Daptone, others falling for the resurgent psych grooves of the 2012/2013 and other who love some indie with a nod to the past. Some still love the powerpop of the '79 revival. In fact, that scene within a scene still survives in what's definitely the 'broad church' of mod in the modern era.
It's something that the author of the Guardian piece failed to understand or explain. Mod is (and always has been) a more sophisticated vehicle than the casual observer might think, whether that's in clothes, music, reading, culture or general lifestyle.
There, of course, are many bands doing the rounds describing themselves as 'mod bands' (not to mention cover acts) and to be honest, I agree with the Guardian scribe that many of them aren't very good. If you are hiding within a scene, there's every chance you are probably hiding from wider scrutiny.
But to be honest, it doesn't matter. Because large numbers of mods aren't listening to them. They're out there listening to other bands, whether that's the beat revival of The Strypes, the psych revival of Jacco Gardner or any number of other niche acts bubbling under right now (some of which you can hear on this New Mod Sounds Spotify playlist).
Just as mods don't tend to buy t-shirts with a big target on them, they don't listen to bands who are packaged the same way. The mod band is a good band – and there are plenty of those out there right now, no matter what The Guardian says.
David Walker
PS Whilst I don't agree with the writer of the Guardian article, Martin Horsfield, I do know that he's a genuinely good bloke – and promoter of the excellent Rock n Roll Soul club night.
Save
Love Modculture? If you enjoy what you read or have benefitted from it and want to
help with the ever-increasing costs of the site and newsletter
, you can always
buy me a coffee at Ko-Fi
. Every penny is helpful and appreciated.