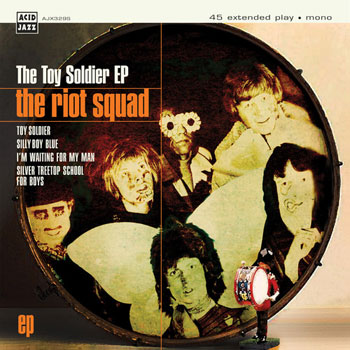 Note that I independently write and research everything in this article. But it may contain affiliate links.
I've been on the edge of my seat about this release since I first got wind of it. Now I have a copy of The Riot Squad with David Bowie Toy Soldier EP from Acid Jazz – and it's a fascinating thing.
I think it's even more fascinating if you have a love of Bowie and a knowledge of his career path. The material covers the brief period (just nine weeks) when Bowie was a member of The Riot Squad, but it also shows a keen interest (even obsession) with the Velvet Underground. One Velvets cover here and another track that keeps drifting in and out of a VU classic. As Bowie fans will know, he produced Lou Reed in later years, played live with Reed and often covered Velvet Underground tracks in his live set – including the I'm Waiting For The Man track on here. You suspect the fascination with the band was more Bowie at work than the rest of the group.
Anyway, the material here was never intended to be released, but thanks to the miracle of modern technology, these 1967 recordings, taken from tapes when the band rehearsed at The Swan in Tottenham with Bowie on vocals, are now available for public consumption. Yes, they are demos – and you can tell. But they sound better than I expected. Someone has really put in the hours here, considering the tracks were 'salvaged from the faintest audio imprint of an antiquated reel to reel tape'. For that. we can all be thankful.
The EP kicks off with Tin Soldier. No, not the Small Faces one (that would be too weird), but a typical piece of '60s-style Bowie whimsy. Except this whimsy keeps drifting into the Velvet Underground's Venus In Furs, complete with 'whip' sound effects (and more). It sounds odd and it is. But something you really should hear.
Following that is a track 1960s Bowie aficionados will know well, a take on Silly Boy Blue, which actually appeared on solo debut from '67 (which was reissued in 2010). This version is a stripped down, rather fragile version, lacking the orchestrations and pomp of the final version, but making up for it in charm.
Following on from that is the 'proper' VU cover, I'm Waiting For The Man, which I really like. As I mentioned, Bowie has done this in his live set over the years, so it's obviously a personal favourite, with this version being pretty faithful to the US band's original. A driving beat and Bowie doing his best Lou Reed impression. There's even what sounds like a kazoo thrown in too. Its the pick of the EP.
Finally, we're back to the land of whimsy with Silver Treetop School For Boys, a touch of Anthony Newley in the vocal of a tune that was actually covered by other acts in the '60s (including the Beatstalkers), but never released by either the Riot Squad or Bowie. You can see why. It's a catchy little ditty (and a short one here, perhaps because it was never quite finished), but the track never really gets above interesting in the form presented here.
Saying that, I personally love this EP, rough edges and all. But your love for it probably depends on your love for Bowie's 1960s output (and possibly your tolerance of the Velvet Underground). If you have any interest in Bowie's early period, I suggest you go out and get your order in for this EP now. It's no classic, but it's a fascinating record of a very short-lived period.
The Riot Squad with David Bowie Toy Soldier EP will be released by Acid Jazz on limited edition 7-inch single. If you want to pre-order one, you can do that here.
Love Modculture? If you enjoy what you read or have benefitted from it and want to help with the ever-increasing costs of the site, you can always buy me a coffee.