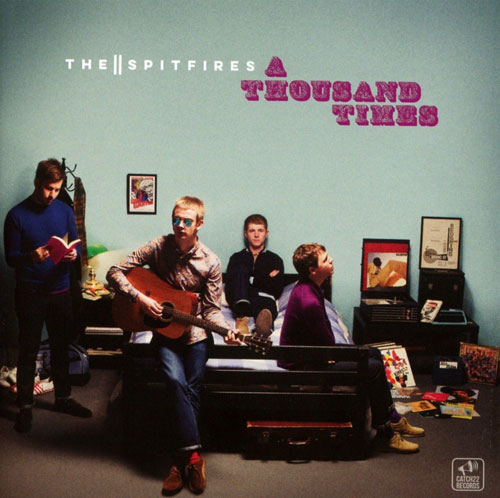 Note that I independently write and research everything in this article. But it may contain affiliate links.
The Spitfires are clearly a band in a hurry. The dust had barely settled on their much-praised 2015 debut album Response before they were back in the studio crafting its follow-up, the newly-released A Thousand Times.
Yet while they may have barely paused for breath between records there's no let-up in the quality of the tunes – indeed, A Thousand Times marks a clear progression in frontman Billy Sullivan's songwriting and reveals the Spitfires as one of the best bands to emerge in recent times.
Forming a band had been in Sullivan's mind since he was a kid growing up in Watford, listening to punk, soul, ska, reggae and immersing himself in Mod. He got the Spitfires together three years ago initially as a three-piece with Matt Johnson on drums and Sam Long on bass, before expanding the lime-up with the more recent addition of Chris Chanell on keyboards.
They've been touring constantly since, developing into a real force as a live band and picking up a large and loyal following along the way. Expectations around the second record were therefore very high, and A Thousand Times meets those expectations brilliantly.
The album kicks off with its title track, a sparky tune telling tales of relationship problems, a theme picked up in the 'Last Goodbye', which showcases Chanell's keyboard skills. Both songs get the album off to a full-throttle start, and 'Day to Day' continues this high-velocity approach.
Although Sullivan has denied being a political songwriter in press interviews – he views himself more as someone who documents his own life and those of friends and family around him – on 'Day to Day' he does get political, railing against the way the media scapegoats minority communities and the problems this causes.
'You've got to get to get your shit together' he urges the public, to get themselves out of their daily struggles. Being a genuinely working class lad, his voice carries extra weight as he's seen the effect of austerity policies on the lives of those in his own community.
Sullivan sings from the heart as he's lived it.
The ambition of Sullivan's songwriting is highlighted by 'Open My Eyes', which sees violin and acoustic guitar take centre stage as the pace drops while Billy, in melancholic mood, reflects on love lost. 'On My Mind' then picks the tempo up again, with brass to the fore, followed by 'So Long', the lead-off single from the album which went to no. 1 in the vinyl singles chart.
It's another superbly crafted tune that fairly hurtles along, yet below the surface lies sadness and loss once again, two of the recurring themes of what is at times quite a melancholic record. 'I'm gearing up for a brand new start, Cos I never wanted to fall apart, The things that once held dear to me are all gone', sings Sullivan with real regret, facing the prospect of having to pick himself up and start again, and trying to find the strength to do it.
'I Don't Even Know Myself' sees Sullivan meld punk, reggae and ska around an insanely catchy keyboard riff, while the anthemic 'The Suburbs (We Can't Complain)' finds Billy burning with anger at the bleakness of lives blighted by frustration, boredom and lack of opportunity.
The pivotal point of album, though, is the six-minute epic 'Return to Me', where Sullivan takes stock of where he is and where he wants to go. Weaving in out of both chorus and verse are some artfully arranged strings that showcase a different dimension to Sullivan's songwriting and also his breadth of musical vision. Played live, there'll be barely a dry eye in the house. Stunning stuff.
Following a breezy reprise of 'On My Mind', the album closes with 'A Better Life', another beautifully-constructed song that predicts a relationship break-up as Sullivan painfully admits that 'I work and I try, But I feel that we are gonna capsize, As I look in your eyes, I feel I'm holding you back from a better life', a heartbreaking thing to confess. So much of the album is like this – an open, honest, heart-on- sleeve take on life in troubled times, bleak yet somehow uplifting and positive too.
Early in their brief history The Spitfires were all-too easily written off as Jam copyists, yet this album proves they have an identity all of their own. With its ambitious musical palate and the sheer quality of the songs, A Thousand Times is a standout record that marks Billy Sullivan out as a special talent and the Spitfires as a band to watch. What they will do next is a fascinating prospect, but whatever it is I bet that we won't have to wait long for it. In the meantime, feast upon A Thousand Times, one of the records of 2016.
Review by Jon Garland
Find out more about the album and order at the Amazon website
Love Modculture? If you enjoy what you read or have benefitted from it and want to
help with the ever-increasing costs of the site and newsletter
, you can always
buy me a coffee at Ko-Fi
. Every penny is helpful and appreciated.