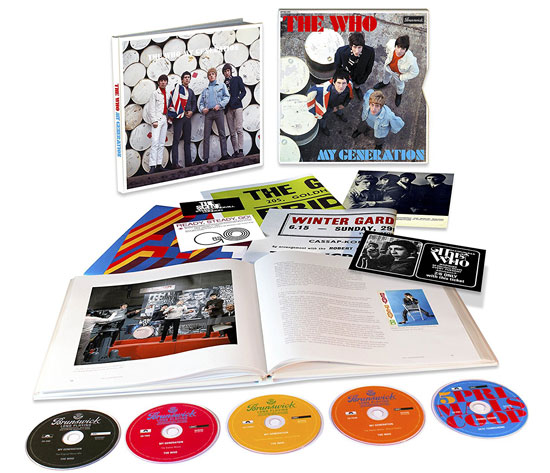 Great news if you are a fan of The Who – My Generation is being reissued as a five-CD and thee-LP box set.
Yes, the band's 1965 debut is somehow being stretched to five discs (or three if you are opting for vinyl). But that's not quite all. The set will also come with an 80-page book featuring rare and unseen photographs as well as six replica inserts, which are:
Flyer for The Who's Tuesday night residency at the Marquee Club 1965.
Admission card to the Scene Club in Ham Yard.
Calling card for The Who's management, New Action Ltd. with a photo of the group
Admission card to the televising of The Who's first appearance on Ready Steady Go! at Rediffusion TV Studios.
20″ x 30″ poster from a 1966 gig.
20″ x 30″ poster of The Who's last ever gig at the Goldhawk Social Club.
As for the music, there are 79 tracks in the CD edition, featuring new demos, mixes plus previously unheard songs that were rediscovered in Pete Townshend's archive last year. Apparently the tracks 'The Girls I Could Have Had', 'As Children We Grew' and 'My Own Love' weren't even heard by the rest of the band.
According to Pete Townshend: 'Gathering these demos for this collection has been enjoyable; it's wonderful for me to have these tapes made fifty-two years ago to listen to. I hope you enjoy them. They have a naiveté and innocence, a simplicity and directness, and an ingenuousness that reveals me as a young man struggling to keep up with the more mature and developed men around me. What an incredible group of strong, talented, young and engaging men they were!'
Track listing below. You can pre-order the album now at Amazon, with the price at £75.07 and the shelf date 18th November. Note that the vinyl isn't up for order yet and isn't appearing until 2017.
Find out more and pre-order at the Amazon website
MY GENERATION SUPER-DELUXE Track listing:
CD1: Original album (mono mixes)
Out In The Street
I Don't Mind
The Good's Gone
La-La-La Lies
Much Too Much
My Generation
The Kids Are Alright
Please, Please, Please
It's Not True
I'm A Man
A Legal Matter
The Ox
 CD2: Original album (new stereo mixes)
Out In The Street
I Don't Mind
The Good's Gone
La-La-La Lies
Much Too Much
My Generation
The Kids Are Alright
Please, Please, Please
It's Not True
I'm A Man
A Legal Matter
The Ox
 CD3: Mono mixes – bonus tracks
I Can't Explain
Bald Headed Woman
Daddy Rolling Stone
Leaving Here
Lubie, Come Back Home
Shout And Shimmy
(Love Is Like A) Heatwave
Motoring
Anytime You Want Me
Anyway, Anyhow, Anywhere
Instant Party Mixture
Circles
Anyway, Anyhow, Anywhere (French EP Mix)
Out In the Street (Alt guitar break)
Out In the Street (Alt early vocal)
I Don't Mind (Full Length)
The Good's Gone (Full Length)
My Generation (Alt version)
I'm A Man (V2 – Early vocal)
Daddy Rolling Stone (alt. take)
Lubie (Alt Mix)
Shout And Shimmy (Alt mix)
Circles (Alt Mix)
CD4: Stereo mixes – bonus tracks
Out In The Street (Alt – Take 1)
I Don't Mind (Full Length Version)
The Good's Gone (Full Length Version)
My Generation (Instrumental Version)
The Kids Are Alright (Alt – Take 1)
I Can't Explain
Bald Headed Woman
Daddy Rolling Stone
Daddy Rolling Stone (Alt version)
Leaving Here
Lubie, Come Back Home
Shout And Shimmy
(Love Is Like A) Heatwave
Motoring
Anytime You Want Me
Instant Party Mixture
Anyway, Anyhow, Anywhere
Circles (New Mix)
Daddy Rolling Stone (Alt Take B – New Mix)
Out In The Street (Alt Take 2)
I'm A Man (Alt – New Mix)
CD5: Primal Scoop – The Demos
My Generation (V 3)
My Generation (V 2 – fragment)
The Girls I Could've Had
It's Not True
As Children We Grew
Legal Matter
Sunrise (V 1)
Much Too Much
My Own Love
La-La-La- Lies
The Good's Gone