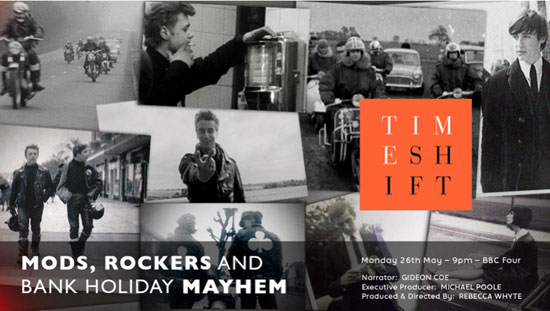 Note that I independently write and research everything in this article. But it may contain affiliate links.
This was flagged up on the forum, with the BBC4 site offering the briefest details. Thankfully, we've been able to get the full details of Timeshift – Mods, Rockers and Bank Holiday Mayhem off the BBC this morning.
It screens on Monday 26th May 2014 (with a couple of repeats after) on BBC4 and looks an interesting prospect. You suspect the BBC has some decent archive footage in its locker.
What's it about? These are the details given to us by the BBC:
Fifty years ago, in May 1964 – as people enjoyed their bank holiday break – households across Britain were rudely awoken to the news that that all was not as it should be among the nation's youth. Newspapers, radio and television announced the arrival of angry young men and women apparently converging on British beaches for pitched battles. Up and down the south coast, and at beach resorts around the UK, a new generation of teenage tear-aways burst into the public consciousness – they were known as the Mods and the Rockers.
Timeshift takes a look behind the headlines to find out who these Mods and Rockers were and to examine the unique set of circumstances that set the course for a head-on collision of ideas, styles and 'fists'.
Cast by the media as two polar opposites, Mods and Rockers had more in common than was first obvious. But it was their differences that set them at odds with each other: sharply dressed Mods riding continental scooters versus 'greasy' leather-clad Rockers on dirty British motorbikes. What both groups shared was their fortune of birth; both groups grew up during a period of post-war prosperity; with more jobs, more money, more leisure time and, crucially, more freedom.
With first-hand accounts from original Mods and Rockers, 'Timeshift' presents a vivid snapshot of the moment this 'youthquake' changed the course of British popular culture. Why was society so anxious about these young people, 'out of control' and up all night in ballrooms and transport cafes throughout the UK?
Why did they appear to behave so recklessly; Rockers risking their lives on the roads in their efforts to 'do a ton' and Mods dancing all-night fuelled by a cocktail of Purple Hearts and American R 'n' B. These rebellious young people were all the more threatening because they had something their parents never did – spending power. They expressed their new found freedom outwardly in their individual styles; defying convention and their parents to adopt new youth uniforms of mohair suits and leather jackets.
With an ability to travel, either on Vespas or BSA Gold Stars, and spare time on their hands, it was only a matter of time before these young people met – as everyone did – on the bank holiday weekend, down at the seaside.
Whether the resulting 'clashes' reported by the press were minor scuffles or the riots they claimed them to be, the headlines captured the imagination of the British public and forever defined these youth tribes as 'folk devils'. The events of May 1964 were, for many Mods and Rockers, a watershed moment. Some Mods decided they didn't want to be associated with violence and labelled as social outcasts; for them it had always been about the music, dancing and wearing great clothes. Similarly, Rockers were not happy being vilified; their motivation was thrills via speed not violence.
Both groups watched with dismay as the media and the establishment whipped the nation into a moral panic about our wayward youth. For that generation – the first baby boomers – they couldn't have been born at a better time and, regardless of how history has recorded those few days of fighting on the beaches, they will always remember their days as Mods and Rockers as the best of times …
Sounds like a decent production. Set the record for it if you are out on the day.
Love Modculture? If you enjoy what you read or have benefitted from it and want to
help with the ever-increasing costs of the site and newsletter
, you can always
buy me a coffee at Ko-Fi
. Every penny is helpful and appreciated.