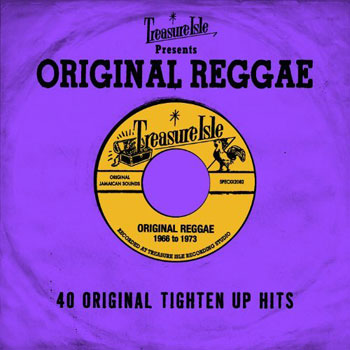 To mark 50 years since Jamaican independence, Trojan Records is releasing a clutch of albums, including rarities and a tasty vinyl 45.
The reissue series kicks off this month, with the releases covering all area of the label's roster – with the ska material kicking things off. April will see four Treasure Isle releases, those being Treasure Isle Presents Ska, Treasure Isle Presents Rock Steady, Treasure Isle Presents Original Reggae and most interesting of all, a limited edition heavyweight 7-inch single featuring two previously unissued ska sides, 'Easter Bonnet' and 'Feeling of Love'. You can get that last one as a pre-order, with a release date of April 30th.
The May releases drift into reggae, themed under 'Classic Island Records Artists' which will include Toots and the Maytals 'Pressure Drop', Black Uhuru 'Guess Who's Coming / Best Of' and Steel Pulse 'Prodigal Sons', as well as 'Best Of' collections from Sly & Robbie, Burning Spear and Aswad.
More details can be found at the Trojan website.
Fancy hearing the albums before you buy? If you have Spotify, check them out here…