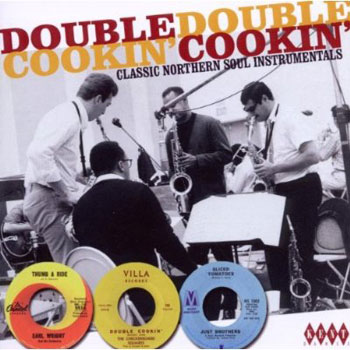 Northern soul instrumentals have been around as long as the northern soul scene itself, but rarely are those tracks celebrated in their own right.
Enter the Kent wing of Ace Records to put that right with Double Cookin' – Classic Northern Soul Instrumentals. The label's first all-instrumental release would you believe?
The clue is in the title – not just the 'instrumentals' but the 'classic' bit. Yes, this isn't a CD packed with previously-unheard rarities, it's a mix of some rare, but more often, the more common and well-played, presumably to give a more balanced overview of the genre. That in itself pitches this at the northern soul beginner rather than the avid collector.
By common, we mean tunes like The Checkerboard Squares' Double Cookin', the Just Brothers' Sliced Tomatoes (still probably best known as 'that Fatboy Slim song'), Danse A La Musique by The French Fries (a rather cool take on Sly's Dance To The Music) and that wonderful stomper The Champion Pt1 courtesy of Willie Mitchell. Early northern faves abound too, like the instrumental take on crooner Sherry by Hugo Montenegro and his Orchestra and Chuck Berry cover Little Queenie by Bill Black's Combo. Possibly a little long in the tooth, but if Kent is doing an overview, hard to ignore.
Others might even be familiar despite their rarity – an instrumental of Make Me Yours, credited to Arthur Wright and his Orchestra (see sleevenotes for the full story of that) and created from several original masters. it hasn't been played outside the Ace offices, so is a rather tasty selling point. Likewise House For Sale by 'The Muscle Shoals Swampers' is another in-house production, this time of the original Millie Jackson tune. One or two lesser-known tracks too, most notably Gone With The Wind Is My Love by The Dire Strings, previously released as a limited edition Kent 45 in 2009 and snapped up sharpish back then.
All of which is backed up with the Ace treatment of extensive sleevenotes (by Tony Rounce), label images, old flyers, you know the kind of thing. It's a really nice package – just as long as you like northern soul instrumentals. I know that's stating the obvious, but not everyone will be rushing to buy a CD of 24 vocal-free tracks. Personally I love an instrumental and if you do too, this will certainly be up your street. That's if you don't own the majority already.

Find out more about the CD at the Amazon website