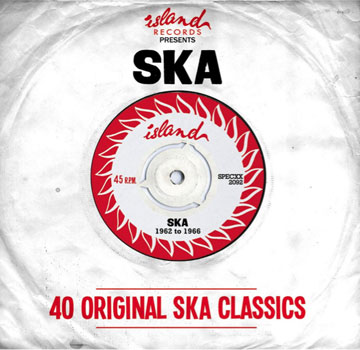 Michael Mulligan checks out the recent bargain compilation of original Jamaican grooves.
Arguably Mods, and particularly fans of 'Mod Music', will one day have to erect a statue to Chris Blackwell. Founder of Island Records, producer, distributor and champion of Jamaican music – particularly Ska – and along with Scene Club DJ Guy Stevens, founder of the U.K. Sue label, which he used to introduce a British audience to the very best of imported American R'n'B, such as Robert Parker's Barefootin' and Bob & Earl's Harlem Shuffle.
If you have ever coveted, or are lucky enough to own some of those red and white bow tie design 45s (as opposed to Sue's red and yellow colour scheme), then you will find a lot to like in a new 40 track CD set, put together by Universal Music with the help of some notable Ska / Reggae experts including Laurence Cane-Honeysett and Michael De Koningh.
Chris Blackwell (born in England, but raised in Jamaica) initially managed jukeboxes, an enterprise that introduced him to local talent. Deciding to try his hand at producing, he would initially sell the resulting one-off recordings to local sound systems, until demand grew and the discs could be licensed to other jukebox operators and, eventually, the Jamaican public.
In 1959, he founded Island Record, and released his debut single Boogie In My Bones, by a young Cuban-born singer, Laurel Aitken. The record proved so popular that it was released in the U.K. to satisfy demand from London's growing West Indian immigrant population. Quick to spot a new, potentially lucrative market Blackwell relocated his operation to London in 1962. He bought a list of the 20 major record stores catering for black music from Carlo Kramer at Esquire Records and began hawking boxes of his latest Island 45s from the back of his Mini Cooper. 'In those days you could get around pretty fast in a Mini', Blackwell says.
By now Blackwell was licensing productions from Jamaica's big name producers – the likes of Duke Reid, Leslie Kong and Lindon Pottinger. Some sent master tapes, others merely sent a copy of the original Jamaican 45. Any lack of sound quality obviously didn't deter revellers in Notting Hill dancehalls or Guy Steven's audience in Ham Yard.
The repertoire on this 2CD set covers the first 'golden age' of Mod, 1962 to 1966 (you're welcome to add or take a year either way, it won't diminish the quality of the music). Herein you realise we have Blackwell to thank for introducing us to the likes of Derrick Morgan, Jimmy Cliff, the aforementioned Laurel Aitken, Lord Tanamo, Baba Brooks, Don Drummond, Desmond Dekker, Justin Hinds, Eric 'Monty' Morris, The Maytals and a young Bob Marley.
It's easy to hear why these infectious, upbeat rhythms would appeal to a stylish youth movement looking to inject a bit of technicolor into a black and white world. And whilst the early Modernists might have nailed their colours to the cool, Modern Jazz mast there is a far better night to be had on the dancefloor when the backdrop is two and a half minutes of pulsing Ska rhythm.
There is nothing in the sleevenotes to suggest that any of the 40 tracks are appearing on CD for the first time and it doesn't pretend to be for the completist. In it's favour it is a brilliant introduction to one of Mod's great labels, the music is infectious and you can pick the 2CD set up for about £5.
Chris Blackwell told the Island Records website: 'There was a feature in the music weekly Disc in the mid-60s in which each of the four Beatles was asked to name their four favourite records. Out of 16 records, seven of them were on Island or Sue.'
Come on, that's a pretty impressive entry on any C.V…
Find out more at the Amazon website
Footnote: For those of a Suedehead / Skinhead persuasion or just fans of good music there is also a companion 2CD set entitled Island Presents Rock Steady: 40 Soulful Classics (1967 to 1968).
Tracklisting;
CD1
1.    Roy And Millie – We'll Meet
2.    Lloyd Clarke – Love You The Most
3.    Clancy Eccles – Judgment
4.    Derrick Morgan – No Raise No Praise
5.    Jimmy Cliff – One Eyed Jacks
6.    Larry Lawrence – Garden Of Eden
7.    Laurel Aitken – I Shall Remove
8.    Theo Beckford – Boller Man (A Come)
9.    Lord Tanamo – Come Down (Pomps And Pride)
10.    Baba Brooks & His Band    Robin Hood
11.    Stranger Cole – Stranger At The Door
12.    Jimmy Cliff – Miss Universe
13.    Baba Brooks & His Band    Three Blind Mice
14.    Robert Marley – One Cup Of Coffee
15.    Stranger Cole – Till My Dying Days
16.    Don Drummond & The Skatalites – J.F.K.'s Memory
17.    Dotty & Bonny – The Sun Rises In The East
18.    Lloyd Brevett – One More Time
19.    Baba Brooks & His Band    Catch A Fire
20.    The Cherry Pies – Do You Keep On Dreaming
CD2
1.    Eric Morris – What A Man Doeth
2.    Desmond Dekker & The Cherry Pies – Jeserene
3.    Theo Beckford – ake Your Time
4.    Justin Hinds & The Dominoes   Jump Out Of The Frying Pan
5.    The Skatalites – Dragon Weapon
6.    Lord Briscoe – Trojan
7.    The Skatalites – Stampede
8.    The Virtues & The Ambassador – Your Wife And Mother
9.    Desmond Dekker & The Four Aces – This Woman
10.    The Maytals – My New Name
11.    Derrick Morgan – Starvation
12.    The Techniques – Little Did You Know
13.    Baba Brooks & His Band – Duck Soup
14.    Justin Hinds & The Dominoes – Peace And Love
15.    Lyn Taitt & Baba Brooks Band – Skalarama (The Magnificent Seven Theme)
16.    Derrick Harriott &The Audley Williams Combo – The Jerk
17.    Baba Brooks & His Band – Lucky Seven
18.    Lloyd Clarke – Parro Saw The Light
19.    Llans Thewell & The Celestials – Choo Choo Ska
20.    Millie Small & Jimmy Cliff – Hey Boy, Hey Girl