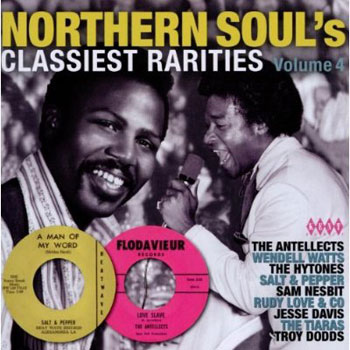 Neil Henderson reviews the latest instalment in the Northern Soul's Classiest Rarities series.
When Jesse Davis walked on stage at the Cleethorpes Soul Weekender in 2009 it was the defining act of a 25 year long-distance love affair that UK soul fans had cultivated with the singer. Never could anyone have believed back in the mid 1980s that the performer of an as then little known record would ever make it to these shores, let alone sing it live it to an ecstatic and rapturous soul scene.
The record in question was, of course 'Hang On In There Girl' (Era) which quickly became a northern soul anthem at Stafford's seminal Top of the World allnighters. Like all great records it's stood the test of time too, continuing to fill dance floors when ever played and commanding a four figure price tag on the rare occasion it comes up for sale.
This latest Kent Records collection, the fourth volume in an ongoing and much vaunted series, hangs itself around two Jesse Davis tracks. There's a previously unissued instrumental version of 'Hang On…' and the truly delightful 'There's Room For Me', another big money 45 and a track that showcases the fine vocal talent of Davis.
As with every volume of this series, there is an eclectic and liberal mix of tracks on offer. The inclusion of The Antellects 'Love Slave' on the hopelessly rare Flodavieur label is somewhat of a soul collectors holy grail and worth a small fortune, a huge record on the scene for over a decade now its worth purchasing the CD for this track alone.
Troy Dodds seriously moody gem 'Try My Love' (El Camino) has long been appreciated and has occasionally found itself on the playlists of some of the more discerning mod clubs across Europe over the last few years. Meanwhile a personal favourite is Jesse James 'Are You Going To Leave Me' (Shirley), a much-inspired Impressions sounding backing coupled with a sublime vocal make its pretty much perfect to my ears. The Hytones have long been admired on the soul scene, but the inclusion of their 'You Don't Even Know My Name' was a new one on me, a sure fire winner and a floor packer every time I'm sure.
The inclusion of Salt & Pepper 'A Man Of My Word' (Heatwave) is another reason why this CD should make into your collection. This very obscure 45 was originally pressed up in no more than 250-500 copies by a band hopefully of generating some extra cash and radio attention. It sunk without a trace, that is until soul dj Butch gave it the attention it deserves. Such exposure drove collectors to go to extraordinary lengths to obtain a copy. A chance connection via the wonders of the internet put band leader Tony Nardi in touch with a UK collector and such was value of this prized 45, it even gave Tony a chance to accompany the couple of remaining copies over to the UK and meet collectors in the process. A similar thread on the Soul Source website has given Kent the chance to release this track (from the original master tapes) on CD for the first time.
If that wasn't enough, there's also some quality rarities from the likes of Melvin Davis, Darrow Fletcher, The Creations, Jimmy Holiday and Wendell Watts, as ever accompanied by the copious and informative liner notes. A high watermark in this ongoing Kent series, go and own it.
Find out more at the Amazon website