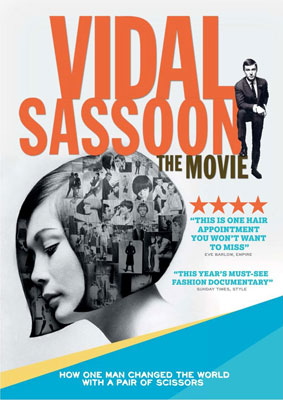 After his sad passing, I decided to seek out Vidal Sassoon The Movie, which had been on my 'watch' list for months. is it the definitive account? Well…
…it does in some ways.
It's not a movie about Vidal Sassoon, this is essentially a movie made by Vidal Sassoon, as well as companion piece to the book Vidal Sassoon: How One Man Changed the World with a Pair of Scissors by Michael Gordon, which is due for release later this year. Gordon is the producer of the film too.
Sassoon, with the help of Gordon, talks through his life, boosted by archive images and footage. From his early days on a Jewish orphanage, his early apprenticeship cutting hair, his later work with the flamboyant Raymonde in London, not to mention his fights with Mosley's mob in the East End and his time fighting for Israel in the state's early years. Colourful before he even opened a named salon.
But open one he did and over a period of time, gaining a reputation and of course, a signature style of cutting hair. One that defined the swinging London era and a look defined by a previous one – 1930s modernism, particularly the work of the Bauhaus movement.
After becoming the darling of fashion magazines (as well as the wider press) in the UK, we hear about how he conquered America, became a chat show host, a celebrity, a pioneer in branded products and how he married a few times. All backed up by more archive footage, not to mention some tasty shots of his modernist home in the US. Yes, his love of modernism never died.
In some ways, it's a a very candid movie – and you do feel like Sassoon is taking you into his confidence about his life, his loves and his career. But don't be fooled.
This is very much 'product' too. Well made and interesting, especially when we're in the early 1960s. Perhaps less so when we're in the land of US chat shows in his later years.
Plenty of interesting contributors appear on the screen – from the original models and Mary Quant through to ex-employees and fellow stylists. All of that against the backdrop of Michael Gordon's book coming together.
But there are very few dissenting voices here, few people offering up a critical voice or opinion. Perhaps that's where the movie is lacking. At 90 minutes, it doesn't seem that long either – you feel it could have worked another half an hour in somewhere.
Yet I can't really be too critical about Vidal Sassoon The Movie, not least because Vidal Sassoon comes across as such an extremely likeable character. Maybe that's why they couldn't find any critical voices for this movie. He's also a great example of a self-made man, successful through sheer hard work and passion. Nothing more.
Not sure I'd buy it. I rented it via Lovefilm and to be honest, it's well worth a rent. That, or wait until it gets a showing on BBC4. It's that kind of film. Check out the trailer below too.
Find out more about the DVD at the Amazon website