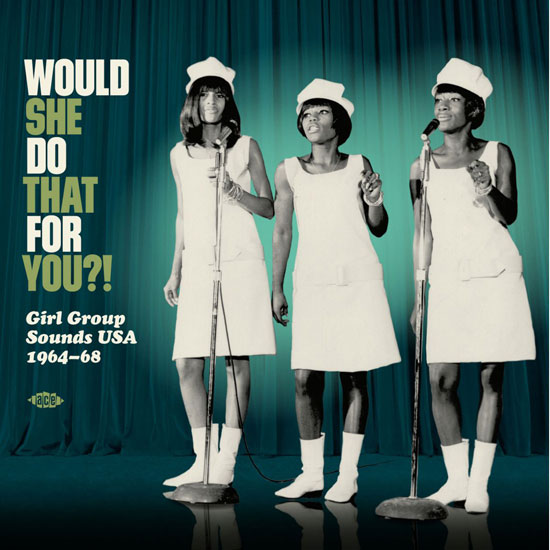 Officially titled Would She Do That For You?!, this is subtitled Girl Group Sounds USA 1964-68 and is a vinyl-only release.
That release is via Ace Records, so quality pretty much guaranteed you would expect.
As that title says, this is a collection spanning the years 1964 to 1968, 14 great examples of the US girl group sound.
Highlights include the Gary Paxton-produced 'Earthquake' by the Fashionettes, Cincinnati duo the 2 Of Clubs' version of Garnet Mimms' 'Look Away', the Motown-esque 'This Couldn't Be Me' by the Sweethearts, and ex-Teddy Bear Carol Connors' unlikely cover of Bob Dylan's 'He Belongs To Me'.
The inner bag features a 3,000-word track commentary by compiler Mick Patrick and with 'illuminating' quotes from Gigi Jackson of the Charmaines, Patti Valentine of the 2 Of Clubs and Darlene Love of the Blossoms.
If this is your kind of sound, the LP is available to order now, priced at £17.26. It lands on 31st May 2019. Tracks below.
Find out more about the LP at the Amazon website
Track listing:
1. Would She Do That for You – Mary Saenz
2. (Never More) Lonely for You – the Ikettes
3. Earthquake – the Fashionettes
4. I Have Feelings Too – Denita James
5. This Couldn't Be Me – the Sweethearts
6. It Kinda Picks Me Up – Tanya Marie
7. Moon Out There – the Puffs
8. Why Does It Feel So Right (Doing Wrong) – the Shades of Jade
9. G.I. Joe – the Charmaines
10. Donnie – the Bermudas
11. He Belongs to Me – Carol Connors
12. Look Away – 2 of Clubs
13. They Are the Lonely – Pat Powdrill & the Powerdrills
14. Moon Walking – the Blossoms with Billy Strange