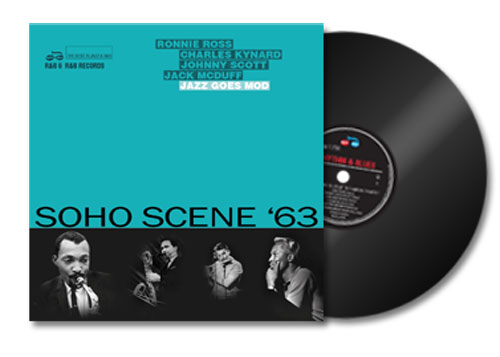 If you were a fan of the previous 1962 release, you might want to pick up the sequel, which is Soho Scene '63 Jazz Goes Mod.
Pretty sure the first volume (pictured below) was a limited edition release for Record Store Day 2015, although you can still buy that directly from the label. Just like this one in fact.
Like that past volume, this is a vinyl-only release from History of RnB Records and (we think) with sleeve notes from Paul 'Smiler' Anderson (who also did notes for volume one).
The premise is much the same too, an album of sounds you would hear in the hip jazz clubs of the capital back in 1963  a time when jazz was on the wane as R&B took more of a foothold in the mod hangouts of the day.
Anyway, what you have here is a mix of British jazz sounds as well as tunes from American labels such as Impulse, Atlantic and World Pacific. Track listing below and if you want to order, the price is around £16.
Find out more at the Amazon website
Tracks:
Side One
1. A Kettle Of Fish Brother Jack McDuff
2. Days Of Wine & Roses The Quartette Trés Bien
3. Blues for Mister Fink Gene Ludwig Organ Trio
4. What Are You Trying To Do To Me Bobby Powell
5. Here Now! Charles Kynard
6. Cleopatras Needle Ronnie Ross
7. Goose Pimples Butch Cornell's Trio
8. How Tony Kinsey
Side Two
1. Hobo Flats Damita Jo
2. Shake A-Plenty Hank Crawford
3. Jack Sax the City Johnny Beecher
4. Hum Drum Blues Elaine Delmar
5. Minerology Chris Columbo Quintet
6. Bowing 707 Johnny Hawksworth Trio
7. For Petie's Sake Jimmy Russell
8. One Way Pendulum Johnny Scott Quartet