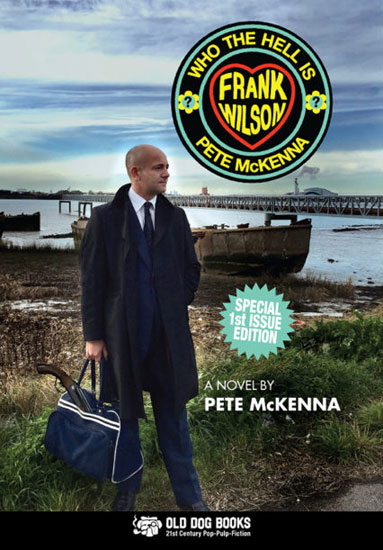 Note that I independently write and research everything in this article. But it may contain affiliate links.
I've been meaning to read Who The Hell Is Frank Wilson by Pete McKenna for some time. In the last week I finally got around to it.
It's a book that has been around for some time although the older version really only shares a title. So if you have one of those, it might be worth a few quid and this one might still be worth picking up. Although that obviously depends if it's a decent read.
It is an interesting one, that's for sure. An ex-mod gangster, the northern soul scene, the seaside town of Blackpool and the IRA are all prominent in this particular gritty book. Probably worth flagging up the latter too, as the violence is quite graphic. If you happen to be of a nervous disposition, bits of this might not be for you.
But if you like the idea of that particular melting pot, it probably is.
There are essentially two main characters. Ronnie Hardman, the London mod turned gangster, now in Blackpool running the show with his skinhead sidekick Jamie and Epic, a northern soulie known foe his love of that particular label. Ronnie takes no prisoners in his dealings, with Epic being one of his employees in the firing line. Epic longs to leave Blackpool, running off the Ibiza with love interest Nicky. But money is tight and the draw of the Wigan Casino is strong.
Various mini stories come together as the book progresses. Ronnie's criminal dealings, Epic's search for cash, Epic's debts with a couple of tearaways and a copy of Frank Wilson's Do I Love You. A northern rarity and the one record Ronnie Hardman needs to own for sentimental reasons. All played out during the final weeks of the Wigan Casino and one deal too many for Ronnie.
Writer McKenna uses a well-used and effective technique of using a basis of fact to push along a work of fiction and the fact that I got through this book so quickly indicates that from a story point of view, it definitely works. This is definitely a page-turner.
But at the same time, there are criticisms. Firstly, the book really does need proof reading more. It is littered with spelling mistakes and punctuation errors. None of us are perfect on either of those fronts, but for a finished work, this one seems to have been pushed out just a little too quickly.
The second issue is a minor gripe with the story, which is, as the foreword suggests, a great basis for a film script. But at times, the plot takes a couple of just too convenient turns. A believable story just loses its way a little. I know, it is a small moan, but this is a review, so worth pointing out. Not entirely sold on the ending either.
If you can deal with those things (and in truth, I could), then you will find Who The Hell Is Frank Wilson by Pete McKenna a good commute or holiday read. The tag line suggests this is 'where Quadrophenia meets The Long Good Friday', which probably oversells it a bit. But it give you a fair idea of the content, just as long as you are happy to substitute Blackpool for London.
Find out more about the book at the Amazon website
Save
Love Modculture? If you enjoy what you read or have benefitted from it and want to
help with the ever-increasing costs of the site and newsletter
, you can always
buy me a coffee at Ko-Fi
. Every penny is helpful and appreciated.