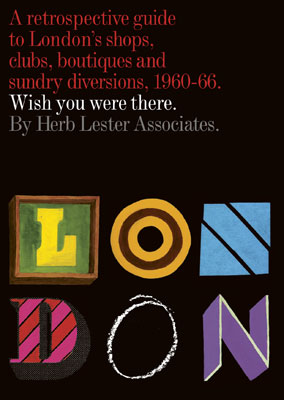 There's a long title, but Wish You Were There: A retrospective guide to London's shops, clubs, boutiques and sundry diversions, 1960-66 can be yours for a rather small price.
You might have heard of it before, as it was released by Herb Lester Associates a while back, but has been out of print for well over a year. Now it's back, offering up a guide to the best places to shop, dance, eat and drink in London, circa 1960-1966. There are coffee bars, discotheques, boutiques and record shops, some of which have taken on almost mythical status, while others are all but forgotten – The Marquee, The Scotch of St James, The Ad Lib, Indica, Foale & Tuffin, Kleptomania, The Plug Hole are all here amongst the 130 entries.
Of course, most are no longer around, but you could always go for a nostalgic walk around London looking for what was once there. The signs might still be there to see.
The map is designed and illustrated by Peder Bernhardt, is A2 (420x594mm) folded to A6 (105x148mm) and litho printed in the UK on recycled paper. Just £4 gets you one.
Find out more at the Herb Lester Associates website