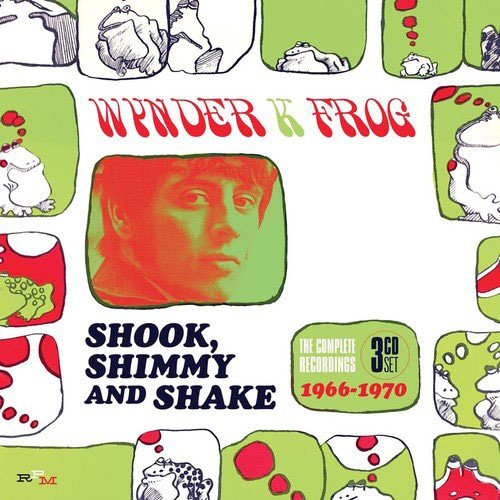 You might have the odd single or album, but if you want the lot, you need the Wynder K Frog – Shook, Shimmy and Shake box set.
This is a three-CD box set, said to be the complete recordings over the period 1966 through to 1970. If you didn't know, Wynder K Frog was Bolton-born Mike Weaver, a one-time member of Traffic (for a brief period after Winwood left), but known primarily for funky grooves knocked out by his Hammond B3 organ and mod dancefloor fillers.
The most well-known of those is Out of the Frying Pan although there was an album before and after that, all of which make up the backbone of this collection. But looking at the track listing, that's also supplemented by alternate and session versions too, bringing the total number of tracks tho 52.
Although it's not mentioned, we would expect a booklet to be involved in this too, no doubt putting some meat on the bones of the Wynder K Frog story, including his work with Herbie Goins and the Night-Timers.
If you fancy it, the box set is available from 23rd February 2018 but available to pre-order now, selling for £19.51. Tracks below.
Find out more at the Amazon website
Update: We now know that the box features miniatures of all three albums, along with a hefty booklet and sleevenotes where Mike Weaver is heavily quoted, telling the back story to the mysterious Wynder K Frog.
Track listing:
Disc: 1
1. SUNSHINE SUPERMAN
2. I FEEL SO BAD
3. OH MARY
4. BLUES FOR A FROG
5. SOMEBODY HELP ME
6. MERCY
7. HOLD ON, I'M COMING
8. SHOOK, SHIMMY AND SHAKE
9. INCENSE
10. WALKING TO NEW ORLEANS
11. (DON'T FIGHT IT) FEEL IT
12. DANCIN' PAIN (alias DANCING FROG)
13. TURN ON YOUR LOVELIGHT
14. ZOOMING
15. GREEN DOOR
16. I'™M A MAN
17. HENRY'S PANTER
18. WADE IN THE WATER (BBC Version)
Disc: 2
1. JUMPING JACK FLASH
2. GASOLINE ALLEY
3. WILLIE AND THE HAND JIVE
4. HARPSICHORD SHUFFLE
5. BABY I LOVE YOU
6. THIS HERE
7. GREEN DOOR
8. BAD EYE
9. ALEXANDER'S RAGTIME BAND
10. TEQUILA
11. THE HOUSE THAT JACK BUILT
12. HYMN TO FREEDOM
13. HI-HEEL SNEAKERS
14. JUMPING JACK FLASH (Mono Version)
15. BALDY
16. DANCING FROG (Stereo Version)
17. BLUES FOR A FROG (Stereo Version)
Disc: 3
1. INTO THE FIRE
2. HOWL IN WOLF'S CLOTHING
3. F IN BLUES
4. COOL HAND STANLEY
5. EDDIE'S TUNE
6. WHY AM I TREATED SO BAD
7. HOT SALT BEEF
8. WARM AND TENDER LOVE
9. HAPPY JACK
10. WE CAN WORK IT OUT
11. FUNKY BROADWAY
12. LOVING YOU IS SWEETER THAN EVER
13. A MEMORY OF BRUCE
14. THE HOUSE THAT JACK BUILT
15. Iâ™LL GO CRAZY
16. TEQUILA
17. BALDY (Alternative version)